SCHOOLS GET CREATIVE
04 Jun 2012
Schools continue to get creative with limited recreational space thanks to TigerTurf, which has transformed them into multi-sport playgrounds.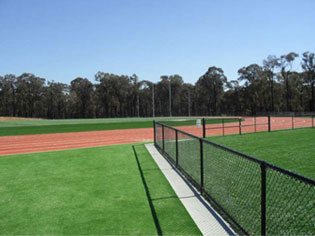 Schools continue to get creative with limited recreational space thanks to TigerTurf, which has transformed tired school grounds into multi-sport playgrounds to be enjoyed.
Maryborough Education Centre
Maryborough Education Centre is sporting a very unique new multi-sport facility that caters to a large range of sports. This brand new synthetic turf facility complements the indoor sports and leisure centre by offering soccer, hockey, AFL, cricket, athletics and other ball related sports such as teeball and softball. The community will have access to the new oval outside of school hours as it will be open for use seven days a week and there is also discussion that district, region or possibly state sporting events could be held there which is a huge bonus for the community.
The Maryborough facility is another example of how TigerTurf, the company behind the build, manufacture and installation of the new oval, turns tired school grounds into brilliant, all weather, multi-sport playgrounds that encourage student activity and participation.
Maribyrnong Secondary College
Maribyrnong Secondary College, one of Victoria's premier sporting schools, is another testimony to TigerTurf's knowledge and capabilities to manufacture, build and install a range of world class synthetic sports fields. The Maribyrnong campus is currently installing a full sized Hockey pitch with TigerTurf's Wett Dressed system. This surface is tested to FIH Global status making it ideal for national and international competition and test matches. The $2.8m project was won by TigerTurf after an exhaustive tender process and covers an area of approximately 22,000m2.
New extended durability turf commissioned for Knox City Council
TigerTurf in partnership with world leading yarn producer TenCate, has gone further than any other company in Australasia by exclusively introducing the first long pile football product that has an unlimited usage warranty for 50 years.
The Endurance 50 warranty offers such significant advantages to clients with high use facilities, such as schools and heavily used council grounds that the Knox City Council in Melbourne chose TigerTurf to build its new commercially run football complex, using Endurance 50 for their nine, 5-a-side courts (a total area of 8550m2). Additionally the complex has a full sized TigerTurf Soccer Real MS 60 field; all constructed and surfaced by TigerTurf.
Both surfacing systems are designed to satisfy FIFA 2 Star standard as well as satisfying durability tests required by FIFA 1Star accreditation, when tested on an installed field.
This new Knox facility will be run by Football Victoria after their representatives travelled the world researching the latest technology used to build and surface high use commercial football complexes. It was clearly recognised that the durability warranties offered by Endurance 50 added significant benefit over the standard warranties offered in the market. Standard warranties only cover UV degradation and significant fading over a 7 year period, which the Endurance 50 by the way, also offers.
A further benefit of Endurance 50, to schools and councils is that the surface warranty is not limited by the type of footwear used, like other warranties offered in the market. Consequently, Endurance 50 warranty also allows school children to use the facility in normal school shoes, without compromising warranty and performance. Endurance 50 is great news for community football. Nothing compares! The perfect choice for high use fields indoor or outdoor.
Visit: www.tigerturf.com.au
Images (top to bottom): Maryborough Education Centre; Maribyrnong Secondary Collage; and Knox Futsal five-a-side.
SEARCH
SUBSCRIBE TO ENEWS
MORE NEWS
APEX PARK: HELPING PEOPLE COME TOGETHER
RESOLVE EROSION ISSUES ON FARMS
A WHOLE NEW WORLD OF FUN
SUSTAINABILITY PRINCIPLES
ACO ACCESS COVER SOLUTIONS
ULTIMATE ARCHITECTURAL FREEDOM