RIVER OF ILLUMINATION
14 Dec 2016
Winners of a competition to 'light up London' have created an illuminating proposal that will control bridge lighting along the River Thames and encourage community interaction through various installations.
The team led by light artist Leo Villareal and architects and urban planners Lifschutz Davidson Sandilands has been announced as the winner of the Illuminated River International Design Competition.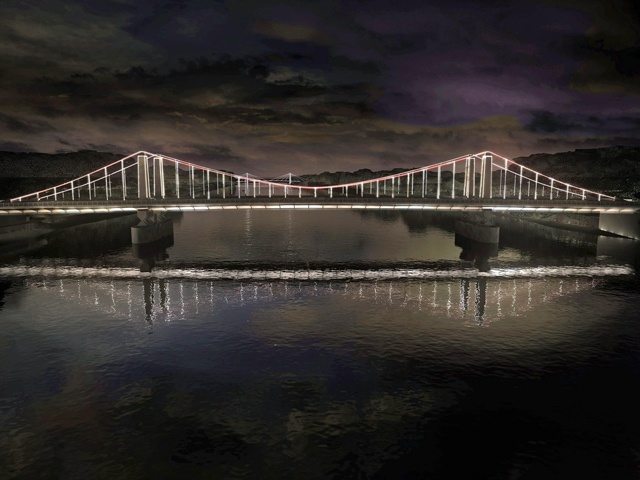 Selected from a six-strong shortlist of internationally acclaimed architects and designers, the winning design was lauded by Illuminated River Foundation Chair Hannah Rothschild as "beautiful, ambitious and realisable but always considerate to the environment, lighting levels and energy conservation."
Led by London architect firm Lifschutz Davidson Sandilands, placemaking agency Future\Pace and American light artist Leo Villareal, the design emcompasses both site-specific colored displays at each bridge, as well as forward-looking strategic plans and partnerships which aim to control commercial lighting along the river and increase public engagement through a variety of installations.
"In order to nuance the concept design and create presence and legibility, we intend to take time to study the river in all its manifestations. We want to listen to Londoners in developing the scheme to deliver at all levels of art and light, urban design and architecture, the environment and sustainability," said Leo Villareal.
"Our aim is for a lighting masterplan which reduces pollution and wasted energy, is sensitive to history and ecology and subtly rebalances the ambient lighting on the river to provide a beautiful night time experience for residents and visitors."
Organised by Malcolm Reading Consultants, the competition saw submissions from 105 teams in 20 countries. Funding for the project will come entirely from private and philanthropic sources.
The team will now continue to develop their design concept, in collaboration with stakeholders and the public. Construction on the project is scheduled to take place in 2017.
The winning team includes:
Leo Villareal (Lead Artist) | Lifschutz Davidson Sandilands (Lead Consultant) | Future\Pace (Curator) | Atelier Ten | Beckett Rankine | Bradley Hemmings | Core Five | Futurecity | Greenwich+Docklands International Festival | Montagu Evans | Pentagram | Price & Myers
Find out more about the Illuminated River project HERE
SEARCH
SUBSCRIBE TO ENEWS
MORE NEWS
A BRIGHT FUTURE FOR LIGHTING
AN ENDLESS LINE OF LIGHT
SOLAR SOLUTIONS FROM MULTIPOLE
A BRIGHT FUTURE
INNOVATIVE NEW SOLAR GENERATOR FOR MULTIPLE APPLICATIONS
INNOVATIVE NEW SOLAR GENERATOR FOR MULTIPLE APPLICATIONS