RESTROOM 'SKIN' A NOD TO THE PAST
13 Dec 2018
Using a vibrant 'skin' to upgrade the aging facilities of the Walton Bridge reserve, Landmark Products overcame the community's resistance to change and created a new facility with a familiar 'old' look.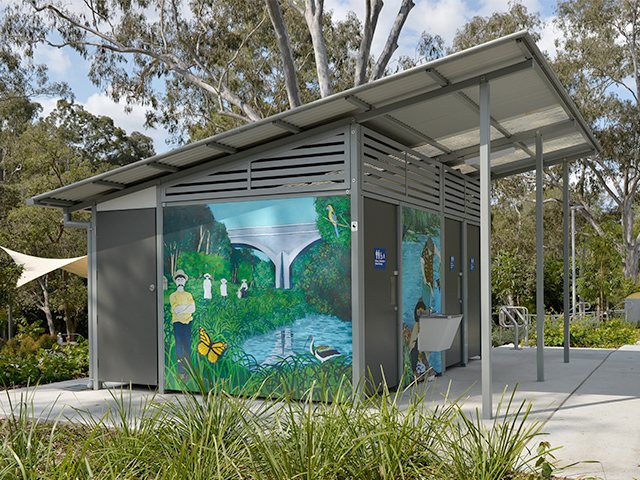 The challenge of updating the Walton Bridge reserve, located 10km East of the Brisbane CBD, was to find the balance needed to upgrade the aging facilities without upsetting the many residents who wanted to leave the reserve in its existing state. So strong was the sentiment, that some residents of the leafy suburb started a petition to stop the upgrade.
Through cooperation and community discussion, a solution agreeable to all parties was agreed upon. The solution included 'skinning' the new restroom facilities.
The original brick structure that housed the public amenities in the park featured a mural that was cherished by the community. Rather than losing it, the new Caretaker restroom structure supplied by Landmark Products to replace the old building was 'wrapped' in the same mural.
After photographing the original mural, those images were transferred to a vinyl wrap that was applied to the 12mm fibre-cement external wall cladding of the new facility. This clever solution allowed the park to retain its previous "look and feel" while still benefitting from the new more accessible facilities.
The Caretaker (K9505) structure features a 5.3m x 5.7m roofline, two unisex ambulant cubicles, one disabled cubicle, and a service duct. The internal walls are constructed of dimpled stainless steel, which is durable, sanitary and allows for easy cleaning. The wall and roof frames are manufactured of hot-dipped galvanised steel and powdercoated for greater protection, while the roof is constructed of pre-cut Colorbond XRW-grade sheets, with two Wonderglass panels providing natural light.
Delivered in kit form, which minimises site disruption and eliminates the need for cutting onsite, Landmark Products manufactured and installed the new restroom facility, including all internal fitout items. The end result is a modern, easy-to-clean public restroom that reminds visitors of the beauty of the past, but with the convenience and cleanliness of today's modern facilities.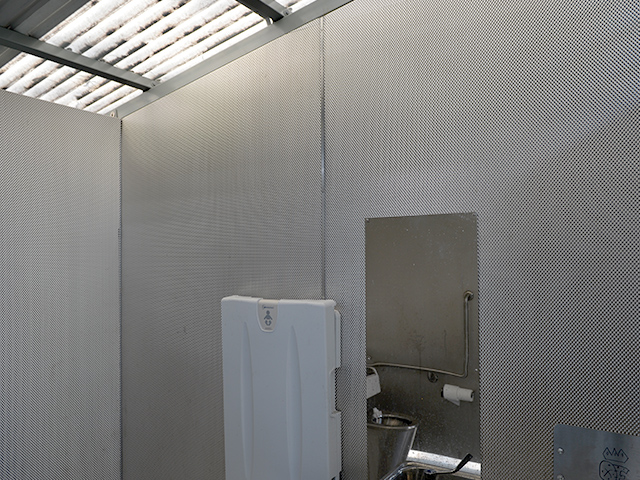 Alongside the new public restroom from Landmark Products, Walton Bridge reserve upgrade also included new viewing boardwalks and a new adventure playground and picnic shelters.
Looking for a sensitive upgrade solution for you next public space project? Visit the Landmark Products website to view the full range of shelters and structures on offer.
SEARCH
SUBSCRIBE TO ENEWS
MORE NEWS
AMENITREES | A GREEN PUBLIC AMENITY ALTERNATIVE
NEW EUREKA MODULAR RESTROOM SERIES
A PUBLIC AMENITY FOR THE PEOPLE
SPACESHIP LOOS LAND IN SAN FRANCISCO
WHAT A WASTE!
ACCESS FOR THE WHOLE COMMUNITY