RENAISSANCE LANDSCAPERS
25 May 2016
Land Solutions – Reveg Tasmania Group is Tasmania's leading landscape contractor with a wealth of experience in the landscape sector and a special interest in erosion control and bush regeneration.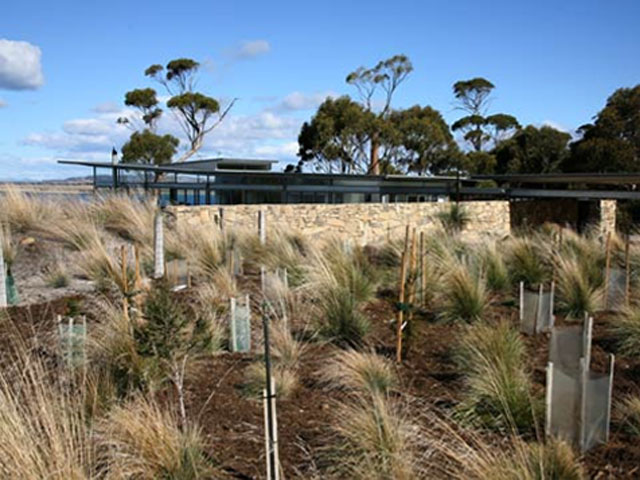 Specialising in landscape services for both residential and commercial projects, Land Solutions – Reveg Tasmania Group (LSRT) has been operating for over 20 years as Tasmania's leading landscape contractor.
LSRT offers a wealth of varied services in the landscaping sector, including:
Hard and soft landscaping works
Playground construction
Streetscape construction
Residential development
Stonework and gabion works
Commercial maintenance services
Revegetation and erosion control
While initially established as a landscape and maintenance business with a heavy emphasis on native plants, LSRT have expanded their efforts in specialised areas of erosion control and bush regeneration.
Their services include:
Erosion control | Installation and supply of quality erosion control products state-wide that are environmentally responsible and, where possible, made from Australian recycled materials.
Hydromulching | Includes a range of revegetation techniques including hydromulching, hydroseeding, conventional seeding, dust suppression, and supply and placement of organic fiber mats. This method provides a cheap and easy alternative to instant turf, or erosion control on building sites, slopes and soil stockpiles.
Weed control | Includes a large-scale weed control of blackberries, gorse and the like, including stem and frill injection of Willow–weed management programs.
Tree planting | An important part of revegetation and rehabilitation projects, this is the most widely used technique for a range of environments, including mine sites, subdivisions and creek restorations. Planting provides immediate vegetation cover and allows for the establishment of species that are difficult to germinate through direct seeding techniques.
For more information on Land Solutions Tasmania's landscaping and revegetation services call 0417 115 145 or email paul@landsolutions.com.au
SEARCH
SUBSCRIBE TO ENEWS
MORE NEWS
DRIVEABLE SURFACE EROSION PROTECTION
RESOLVE EROSION ISSUES ON FARMS
GOLD COAST HIGH-RISES TO PROTECT BEACHES
SOILBOND: A NATURAL STABILISING/BINDING AGENT
CONTAMINANT-FREE STORMWATER
TOTAL ENVIRONMENTAL CONCEPTS | INTERVIEW