RECLAIMED ISLAND BECOMES ENTERTAINMENT PARADISE
27 Mar 2017
Newly released plans for Hainan Island in China highlight the reclaimed island as a premium luxury tourist destination that capitalises on the areas natural resources and offers a plethora of public space for entertainment and cultural activities.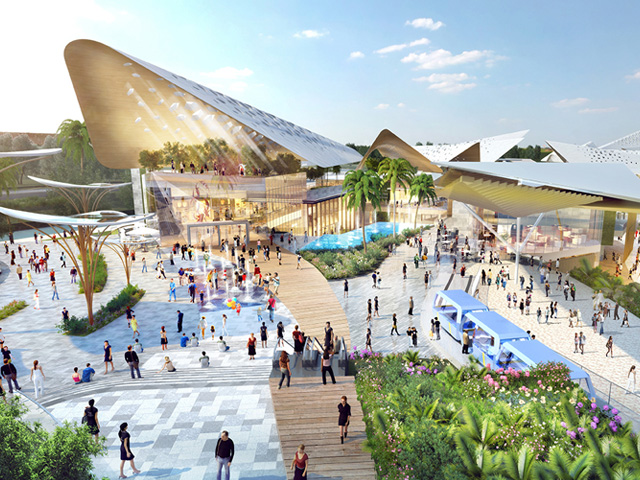 Global architecture firm Benoy has released its latest designs for the China International Travel Service (CITS) Sanya Enot development scheme. The development, the second phase of the large-scale plan, is located on the reclaimed Hexin Island in Hainan.
The development is set to be a cornerstone attraction in an area that is already known as a high-end tourism destination, currently, the area attracts global visitors with its world-class yachting community, international luxury hotel cluster and picturesque unspoilt natural assets.
In a bid to fulfil the environmentally sustainable design brief and achieve a China 3-star sustainability rating, Hexin Island has been designed to capitalise on the areas natural resources. The development was designed in accordance with solar paths and prevailing wind studies that encourage natural ventilation and open sightlines. Making use of the areas wind and solar resources, a series of canopy structures will encourage air circulation and provide much-needed shade, allowing visitors a chance to escape the elements in an area that is known for its a humid and hot climate.
Connected to the first phase of development by a pedestrian bridge, the 32,000sqm mixed-use, retail space features a "porous and multi-layered environment," with clusters of small-scale buildings that will create a series of indoor and outdoor spaces for entertainment and retail programming. The buildings throughout the development will be connected by a succession of elevated walkways and bridges.
"Our team has brought new thinking to the retail, entertainment, cultural and art experiences within the development. Our Masterplan is animated by vibrant spaces and offset by quieter zones, and there is significant diversity in the programmatic mix to ensure we arouse interest and appeal to a large visitor base," said Chao Wu, Benoy Director.
The large complex encompasses several public facilities. At one end of the development, a large aquarium with a reflective pool invites users to spend the day and linger in the area. At the opposite end, a covered market area holds fish farm facilities that will provide fresh, local seafood and also house additional stall space for imported goods. The covered market will act as a fantastic resource for the planned al fresco and market-style dining zone.
A range of activity zones for children is included in the scheme, as well as art displays, water shows, cultural performances, recreational attractions, wellness programmes, and possibly even a wedding chapel. Project construction is scheduled to commence in late 2017.
SEARCH
SUBSCRIBE TO ENEWS
MORE NEWS
LANDSCAPES GOOD ENOUGH TO EAT
UPPER AUSTRALIA
ELEPHANT WORLD CULTURAL COURTYARD
TREEHOUSE SCHOOL FOR POST-COVID LEARNING
TIMBER CAR CHARGING STATIONS CREATE REST
PERTH WELCOMES NEW $695M UNIVERSITY CAMPUS