PROTEAS FOR ALL SEASONS
04 Jun 2012
Ausflora has a range of Proteas for every season, from 'Grandicolor' to 'White Crown', so no matter what you're looking for, you'll be sure to find it here!
Ausflora has a range of Proteas for every season. So no matter what you're looking for, you'll be sure to find it here!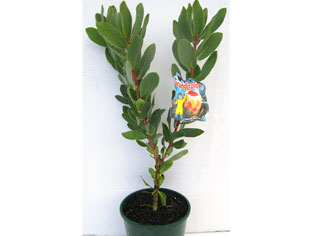 Protea 'Grandicolor' PBR - Protea grandiceps x lacticolor
Stunning deep green medium shrub with beautiful pink centred cream flowers during spring and autumn.
Protea 'White Crown' PBR - Protea cynaroides f.miniture white
Emerald green foliage with a spectacular white flower most of the year. This miniature King Protea is suited to most garden situations.
White Crown PBR
This plant differs from any other cynaroides, although the flower is just as spectacular as any other of its kind, due to the small size (45cm in height and 45cm wide), vivid foliage and it's adaptability. It truly is a one of a kind flower. This product is suited to almost all applications whether it is a potted plant on the verandah, a garden rockery or a large scale landscaping project. As with most Proteaceae they do prefer slightly acidic, free draining soil.
Grandicolor PBR
Another Protea developed on the Ausflora Pacific Plantation over a number of years. There is no other Protea quite like it. The flowers from this particular variety, with the unique pink centred, cream flower have proven to be extremely popular the world over with Ausflora Pacific shipping thousands every year both domestically and internationally. Now we have perfected the flower development and definitely created a niche in the market it is time to produce and promote this wonderful plant for the nursery and landscaping market.
Grandicolor PBR requires a full sun position with plenty of air movement, as well as a slightly acidic free draining soil. It has excellent bird attracting qualities and makes a great feature plant to any landscape
If you would like to find out more about the outstanding varieties available at Ausflora Pacific please contact our sales team. If you would like to place an order, simply contact one of our distributers (contact details available on our website), or for larger orders contact Ausflora Pacific directly. These plants are generally available from 42mm through to 250mm.
Visit: www.ausflorapacific.com.au
SEARCH
SUBSCRIBE TO ENEWS
MORE NEWS
BEVERLY HILLS BRINGS BOTANICS SKY HIGH
THE UNIQUE TOUCH ADDED THROUGH THE VIENNA FURNITURE SUITE
PARKS & LEISURE AUSTRALIA CONFERENCE RESCHEDULED
JINING ART MUSEUM SHOWCASES ORGANIC SHAPES
SCULPTURES FOR SKATERS
DIY SOFTWARE: SIZE UP YOUR OWN DRAIN