NEW IS OLD AGAIN
12 Aug 2015
Utilising their extensive experience and artistic know-how in recreation stonework for St Laurence's College, Benzini's has brought together the old and the new seamlessly.
Benzini Australia has been a family-owned and operated business on the Gold Coast since 1993, specialising in customised precast concrete products. As a local manufacturer, they make to order for both residential and commercial customers, supplying to Queensland, New South Wales and Victoria.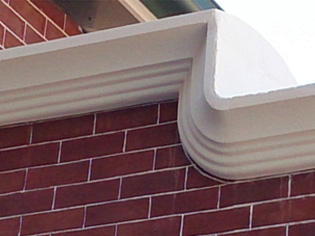 Beginning with an indepth understanding of the client's requirements, to making molds, selecting raw materials and attending to the detail of the fabrication and finishing processes, Benzini is dedicated to producing an end product that exceeds expectations.
Recently Benzini was contracted by Herron Coorey Building Contractors to manufacture the precast parapets for a reconstruction/extension project at St Laurence's College in South Brisbane. This project consisted of manufacturing the parapets to go onto a new section of the building. The complexity of the project involved replicating the 100 year old existing parapets to ensure the new parapets were an exact match.
To achieve this Benzini went onsite to template the existing parapets, then creating the molds to reproduce new parapets in the same style. Over 30 metres of precast was supplied to the project, including several different widths and lengths, and altered profiles, curves and sections to go around the flag pole. Benzini also cast the mitred angles to avoid too much onsite cutting.
Each section weighed over 100kg, therefore requiring casting with a lifting anchor in the top and dowel for pinning to the wall. Finally, each piece was trowelled with a 'weather' (10mm rounded top) so water does not pool and deteriorate the concrete over time.
After installation of the parapets, Herron Coorey Building completed the new 'old style' building with a paint job, blending the old section to the new section seamlessly.
SEARCH
SUBSCRIBE TO ENEWS
MORE NEWS
ECOTOURISM FINDS ITS NICHE
MONSTER BAT BRIDGE