NEW CHILDCARE CENTRES PLANNED
01 Oct 2014
The City of Sydney has approved the design and construction of three new childcare centres in the inner city.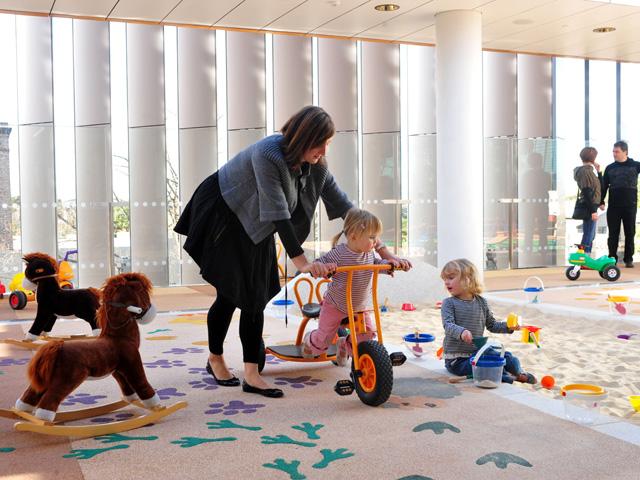 The City of Sydney has approved the design and construction of three new childcare centres to meet the urgent needs of local families. At least 240 new childcare spaces for babies and children will be available in the inner city from early 2016.
The three new centres, located at Sydney Park Road, Sydney Park, St Peters; Huntley Street, Alexandria; and The Crescent, Annandale, will be developed by early 2016 with each offering 80 spaces for children aged from six weeks to six years old. The City will consult with the local communities about the proposals.
Lord Mayor Clover Moore said in addition to these three new centres, construction had already begun on a 60-place centre in Darlinghurst and design work has started on a new centre in Green Square.
"The City is committed to fast tracking the development of six new childcare centres by 2016 with $33 million being invested to fast track the six new centres and $22 million set aside for more new centres," the Lord Mayor said.
"We know quality child care is essential for working parents, and this is great news for parents who live or work in the City of Sydney area.
"There is a growing gap between the number of parents looking for child care and the number of places on offer which is why we are doing all we can to help to increase the numbers of child care places in our area.
"The high quality centres will include secure outdoor playgrounds and are located in areas where demand is greatest."
Each long-day centre will cater to children aged from six weeks to six years old and will comply with national quality standards and regulations for care services.
The City also continues to encourage the creation of childcare centres in new developments. Between the beginning of 2012 and the end of March this year, the City approved development applications that included 732 childcare spaces (with works yet to commence), and 235 places that are now under construction.
The City currently provides facilities for about 20 per cent of all childcare spaces in the inner city, and regularly meets with childcare operators to explore ideas and opportunities to increase the supply of places.
Images courtesy of City of Sydney.
SEARCH
SUBSCRIBE TO ENEWS
MORE NEWS
THE START OF SOMETHING NEW
#EACHFOREQUAL WITH WOMEN IN LANDSCAPING
GOSFORD QUARRIES | INNOVATION IN TECHNOLOGICAL DESIGN
JACARANDA PARK INCLUSIVE PLAYSPACE
HONEY BEE RESEARCH FACILITY CREATES A BUZZ
GEOMETRY IS A UNIVERSAL LANGUAGE. SO IS PLAY!