MONOTEC 370 PROVIDES THE ULTIMATE COVER
15 Oct 2020
As the only Australian-made fabric on the market, the popular Monotec 370 Series shadecloth is designed specifically to last for years and survive Australia's harsh climate. Find out why the durable Monotec 370 is the best choice to keep your space covered.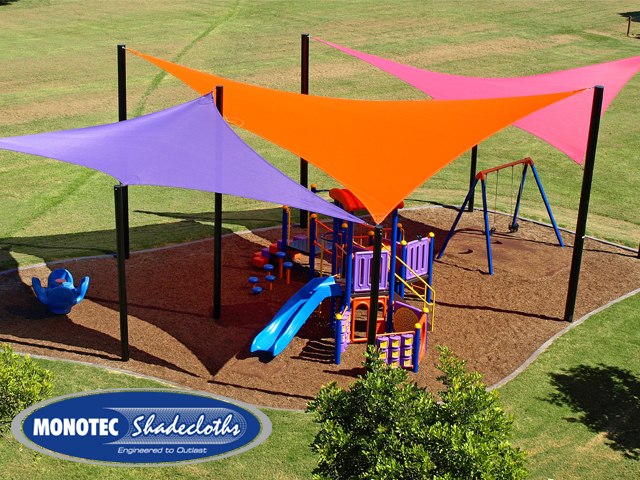 Developed as an 'install and forget' shadecloth, the Monotec 370 Series shadecloth from Pro-Knit Industries is the perfect solution for shade sails and structures. Uniquely made using only 100 percent round monofilament HDPE yarns, the Monotec 370 Series provides consistent protection to people and property in the harsh Australian climate.
Monotec 370 Series shadecloth is resistant to UV rays and is supported by an industry-leading 15-year warranty. The sturdy fabric construction of round monofilament yarns will not stretch over time, assuring the integrity of your structure's stability for many years to come.
Its high quality and durability mean that maintenance is minimal and you can be assured of the best product to protect your space.
The Monotec 370 has a wide range of features that make it one of Australia's best shade solutions.
100 PERCENT ROUND MONOFILAMENT HDPE YARN
With a higher strength to weight ratio, round monofilament yarn is stronger than tape or oval yarns.
The major strength in any shadecloth comes from the round monofilament yarns. Simply, round monofilament is vital to the strength and stability of any fabric. Monotec 370 Series shadecloth has 100 percent round monofilament in its construction, which means that it is stronger and more stable than any shadecloth made using tape or oval yarns on the market today.
TENSIONING MONOTEC FABRICS
Due to the unique construction using 100 percent round monofilament yarn, Monotec 370 is stronger than other shadecloth types. This means that Monotec 370 has a greater resistance to high winds and has increased stability, allowing it to be an 'install and forget' shadecloth.
Due to the positive memory in the round monofilament yarn, when installed correctly there will be no need for installers to return to re-tension the fabric. This ensures that there are minimal ongoing costs to owners long after installation has been completed.
VANDAL RESISTANT
The strength of round monofilament yarn, combined with the close lock-stitch construction makes it difficult to penetrate the fabric with damaging objects.
Most council parks are accessible at all hours of the day and night. The risk of vandalism and its associated costs should be considered. Monotec 370 is far more resistant to vandalism than other shade cloths.
The close knit of Monotec 370 construction makes it difficult for vandals to push damaging objects such as sticks and screwdrivers through the fabric. If, by chance, an object does penetrate the fabric, it will be almost impossible for vandals to tear the cloth. The 100 percent round monofilament yarns will not tear along tape lines as other products do.
ADDITIONAL FEATURES OF MONOTEC 370 INCLUDE:
No tape yarn used | Flat and oval tape yarns are weaker and continue to stretch, causing sails to sag after installation
No re-tensioning after installation | There is no need for installers to return after installation to re-tighten sails
Strong wind resistance | Superior durability and performance especially in excessively high wind conditions
Maintenance-free | Due to their smooth surface, round monofilament yarns are more resistant to dirt and debris buildup
Industry recognised | Utilised in multiple award-winning projects in Australia and around the world
16 vibrant colour options | Additional custom colours available by request
100 percent Australian made | The only commercially available Australian made shadecloth
15-year warranty | The industry's leading 15-year manufacturer's warranty
Contact Pro-Knit Industries via the links below to get your space covered with Monotec 370 and start reaping the benefits.
SEARCH
SUBSCRIBE TO ENEWS
MORE NEWS
SHADE AT THE TOUCH OF A BUTTON
CLEANER AND GREENER TEXTILE OPTIONS AT RICKY
RICKY SHADE FABRICS HAVE GOT YOU COVERED!
CANTILEVERED SHADERUNNER® RETRACTABLE SAIL
SHADE THAT MAKES A STATEMENT
COMBATING URBAN HEAT