MEMBRANES AUSTRALIA IS WATERTIGHT
15 Jul 2015
Specialists in waterproofing and liquid containment solutions, Membranes Australia has over 30 years of experience in the industry.
Membranes Australia prides itself on attention to detail and an extensive knowledge of waterproofing. One of the most experienced waterproofing and liquid containment companies in the Pacific Rim, Membranes Australia has the capacity to perform offsite manufacturing in some of the most inhospitable environments imaginable.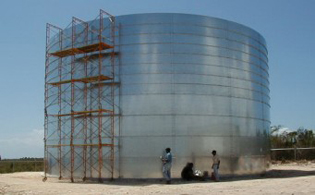 With a fully trained technical staff who hold innumerable certifications in all aspects of waterproofing, the Membranes Australia team have you covered in high spaces or tight spaces and everything inbetween.
Some of their extensive services include:
Specialist range of roofing membranes for commercial and domestic use
Tanking systems for below ground structures
Waterproofing for bathrooms and wet areas
Waterproof membranes for balcony areas
Dam and pond lining for commercial and residential projects
Water storage systems, including pillow tanks & underground tanks
Irrigation systems/Canal lining
At this year's Melbourne International Flower & Garden Show, Membranes Australia was proud to be partnered with Phillip Johnson Landscapes to create a garden in support of the 5000 Poppies project. Highlighting the flexibility and durability of their pond liner – Beutyliner – Membranes Australia contributed to the creation of one of the most memorable and stunning tributes at the show.
Membranes Australia has the reputation and the experience to deliver your waterproofing requirements on time and on budget!
To find out what Membranes Australia can offer your next waterproofing project visit www.membranes.com.au
SEARCH
SUBSCRIBE TO ENEWS
MORE NEWS
A FRESH COAT
EASY BOND
WATERPROOFED WALLS A SUCCESS
WATERPROOFING DONE RIGHT
TRAFFICABLE WATERPROOF COATING
WATERPROOFING DONE RIGHT