LUSCIOUS LOUVERS
05 Mar 2014
Louvers from Yarra Shade can dramatically alter the look and feel of your building as well as provide you with an exceptional shading solution.
Yarra Shade was called in to handle a common problem: A 30 year old building and its air conditioning was not coping with the heat caused by the direct sun hitting the windows. The building would quickly rise to unbearable temperatures in the middle of winter on a sunny day. The air conditioning was not coping and nor were the staff and occupants.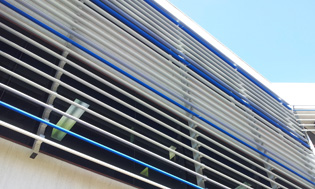 Our brief was to offer a solution that would provide sufficient protection from the sun and reduce heat whilst not being expensive to run and maintain.
Yarra Shade proposed a fixed louvers system. The 210mm louvers were fixed to upright posts with brackets that allowed for varying angles. In this application they were attached at 60 degrees. The spacing was important in order to ensure complete sun protection all year round.
This solution means that now no sunlight hits the windows any time of the year and hence, completely eliminates the heat generated by direct sunlight. The spacing between the louvers and their angle has meant the building still benefits from plenty of natural light. Staff and occupants can still enjoy their broader view and most importantly see what is happening on the ground when the need arises.
During the recent summer heat waves the facility has remained operational and comfortable to work in. The building managers and tenants are thrilled with the solution and outcome.
"Yarra Shade immediately understood our needs and offered a solution that was going to solve a problem we have been having for many years. Simon and Euan are great to work with and very accommodating. The results were better than we expected and we are really pleased with the outcomes. We have a rejuvenated building facade with cooler and happier tenants." (Building owners)
SEARCH
SUBSCRIBE TO ENEWS
MORE NEWS
SHADE ON DEMAND FOR MIAMI AQUATIC CENTRE
SHADE AT THE TOUCH OF A BUTTON
SHADE THAT TELLS A STORY
COMBATING URBAN HEAT
BUDERIM VILLAGE PARK IS SET TO IMPRESS
LOOKING AFTER FUTURE GENERATIONS