LANDSCAPE SHADE STRUCTURES: ENHANCING LANDSCAPING PROJECTS
05 Sep 2023
The addition of a shade structure can be both a practical and highly aesthetic way of enhancing any landscape design. Whether your vision includes a distinctive and unique shade element as an integral aspect of your architectural planning, or if you are seeking a convenient, easy-to-specify, stylish architectural umbrella or modular shade structure to complement the landscaping, MakMax Australia has your covered.
When it comes to bespoke shade structures, if you can conceive it, MakMax can design, engineer, fabricate and install it. A testament to this is the architecturally captivating Wet'n'Wild H2Oasis. This remarkable project embodies the limitless possibilities of shade design. Created to evoke an undersea wonderland, complete with undulating waves and a majestic manta ray, MakMax played a pivotal role in realising the vision of the architect and head contractor. Translucent, impermeable PVC adorns the wave-like structures over the queuing and viewing areas, while a PVC mesh veils the expansive Manta Ray shade structure in the heart of splash-pad play zone. These MakMax Landscape Structures offer both sun-safe shade for patrons enjoying the park, as well as a highly architectural finish to the H20asis theme elements.
In a similarly innovative fusion of practical shading and architectural expression, the trio of cable-grid school playground shade structures at North Melbourne Primary School transcend the boundaries of conventional school shade design. Each of the vibrant, orange circular structures support 66 printed PVC mesh panels, securely fastened to a tensioned stainless steel cable grid. Designed to let sunlight weave its way through the artistic mesh and cast enchanting shadows upon the school playground below, these captivating shade structures create a joyful interplay of light and shade.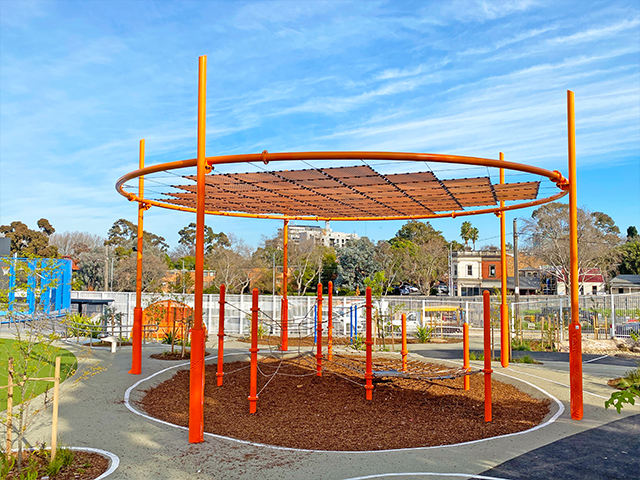 The impact of Landscape Shade Structures need not hinge on complete customisation. MakMax Australia boasts an array of standardised Architectural Umbrellas, spanning various shapes, sizes and membrane colours. Easily integrated into landscape projects, MakMax can simplify a selection process by providing a concise "finishes schedule" table or a comprehensive 2-page data sheet for your specification documentation.
Ideal for commercial landscaping projects, such as the internal courtyard of Echuca Regional Health facility, which features a series of MakMax Octagonal Centra Architectural Umbrellas. Six umbrellas covered in Orange, Aniseed, and Buttercup colored PVC membranes reflect the colours of the Echuca Regional Health logo, seamlessly aligning with the facility's brand identity while offering a shaded outdoor recovery area. The umbrellas inject a touch of vibrancy to the hospital grounds, inviting residents to enjoy the outdoor garden.
For more expansive landscaping undertakings, MakMax's range of Modular Shade Structures offer an ideal solution for integrating free-standing shade elements. Coachman Park in Clearwater, Florida, boasts 16 MakMax Quasar Modular Shade Structures, which employ a 'hypar' design to deliver visually pleasing shade solutions. These white PVC structures provide shade over walkways, seating zones, picnic spots, and children's playspaces, and create a unified shade design throughout the whole park area.
Explore the complete spectrum of architectural umbrellas and modular shade structures on MakMax Australia's website or engage with the team for a design of a bespoke shade structure. MakMax stand ready to provide specialised engineering expertise and advice to transform a landscape shade structure dreams into tangible reality.
Contact the team today via the links below.
SEARCH
SUBSCRIBE TO ENEWS
MORE NEWS
'ROLL BACK THE CLOCK' IN THE SHADE
NEW SEASON DOCRIL® HAS LANDED
ATTACHABLE NEW SHADERUNNER® TRAX 'MONO'
BUILD SHADE STRUCTURES TO LAST!
PREMIUM SHADE SOLUTION FOR LOCAL SWIMMING POOL
THE ARCHES