KINGS SQUARE RENEWAL
02 Aug 2017
The City of Fremantle is currently working towards the renewal of Kings Square. As one of the city's largest undertakings to date, this development project will incorporate a series of new public space facilities.
The $270 million joint endeavour between the City of Fremantle and their project partner Sirona Capital will see the renewal of Fremantle's Kings Square. The envisioned Kings Square renewal will create more than 2100 new local jobs for Fremantle, injecting $358 million into the local economy.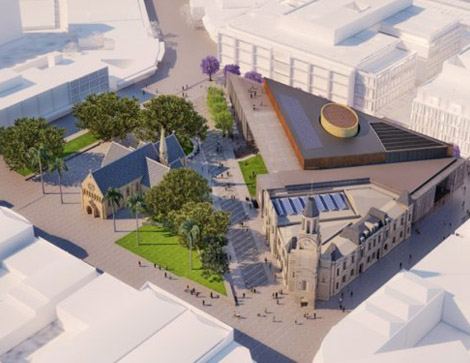 According to Council, the entire project will include:
"Innovative and high-quality" speciality retail and dining precincts
New commercial spaces including office accommodation for more than 1500 state government employees relocating to Fremantle
A revamped city square with landscaped grassed areas and tree canopies, public art and new street furniture
A new children's play space
Accessible toilets and change facilities for adults and children
State-of-the-art, library and visitor centre experiences
A civic administration building with purpose-built indoor and outdoor community spaces and meeting rooms
New lighting and CCTV precinct surveillance.
The development will be funded with Sirona Capital reportedly investing $220 million into the commercial precinct, which involves the redevelopment of the former Myer building, the replacement of the Queensgate building and the upgrade of the Queensgate car park.
The remaining $50 million of the funding will be provided by The City of Fremantle and will see the replacement of the current administration centre, library and visitor centre. The City will also undertake extensive work to upgrade the community public spaces in the square.
"The Kings Square renewal project offers a multitude of benefits, both economic and social and is considered a once in a generation opportunity to revitalise the Fremantle city centre," Council said.
"Economic benefits stem from the attraction of more residents, workers and shoppers into the city centre. The project will lead to improved retail offers for residents and visitors, increasing economic activity and creating a more vibrant city centre.
The Kings Square precinct will eventually merge with other urban design projects including the enhancements of Queen, Point and Adelaide Streets and a new public space near the Fremantle Train Station.
The project is expected to officially commence in August 2017 following a slew of community consultation sessions currently taking place. The draft plan was submitted to Council earlier this year and then approved in May.
Images courtesy Kerry Hill Architects.
SEARCH
SUBSCRIBE TO ENEWS
MORE NEWS
AN EDUCATION IN RECREATION
PLAY GETS 'WILD' IN GOSFORD
THREE CAPES TRACK LODGES
AQUARIUM BRINGS PEOPLE BACK TO NATURE
HUDSON YARDS A 'VESSEL' FOR PUBLIC USE
TAIWAN'S LANDSCAPED FOOD MARKET