INSPIRATIONAL GARDENS
20 Aug 2014
This year's Australian Garden Show Sydney will feature inspirational gardens by Australian and international landscape designers.
The build has begun at Centennial Park this week for the Australian Garden Show Sydney (AGSS).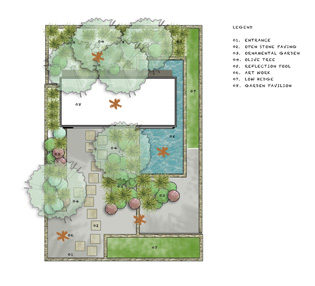 The 2014 AGSS will feature over 30 display gardens, including 10 Inspirational Gardens - large-scale, custom-built installations delivered by leading Australian and international landscape designers.
Myles Baldwin's design, Open Woodland, will showcase how a layered planting style relates to modern architecture. The plantings will devolve from the rigidity of strong monoculture hedging and minimalist gravel, to mixed shrubberies, numerous trees with understory cover.
As a result of working all throughout Australia, Myles has developed a passion for a variety of planting types and textures, as well as creating clever, functional spaces.
Another designer appearing at the show, Melbourne-based Brent Reid, will create Cache - a hiding spot for anybody who seeks an escape from the world, to relax and unwind.
The garden steps up to an entertaining area that is a combination of oversized pavers and cypress 'snake skin' decking. The entertaining area is partially enclosed by rolled steel, forming an arched pergola that creates a comfortable framework between you and the outside world.
Sandstone boulders and soft planting form the outside edges of this garden, while a screening hedge for privacy runs along the entertaining area. A tree canopy at the rear provides foliage height and under planting provides a rich tapestry of colour, texture and shape.
The Australian Garden Show Sydney will take place in Centennial Park between 4 and 7 September.
For more information visit www.australiangardenshowsydney.com.au
Images (top to bottom): Myles Baldwin's garden; and Brent Reid's garden.
SEARCH
SUBSCRIBE TO ENEWS
MORE NEWS
PLA NATIONAL CONFERENCE GOES VIRTUAL
SPRING HAS SPRUNG! GET YOUR COPY OF THE AUSTRALIAN PARKS & LEISURE JOURNAL SPRING EDITION
LOCAL INFRASTRUCTURE GETS BUDGET BOOST
AILA 2020 NATIONAL AWARDS
TRANSFORM DESIGN WORKFLOWS WITH VECTORWORKS® LANDMARK
2020 PLA NATIONAL VIRTUAL CONFERENCE