HUSQVARNA KICKSTARTS A NEW ERA IN SUSTAINABLE COMMERCIAL TURF CARE WITH THE LAUNCH OF CEORA™
18 Oct 2023
After a successful introduction to a select number of European markets during 2022, Husqvarna's ground-breaking robotic solution for commercial turf care management, is finally available in Australia.
Built for autonomous, safe green maintenance of large areas: Husqvarna CEORA™ is characterised by low ground pressure, a safe cutting system and object detection/avoidance.

Husqvarna CEORA™ is expected to revolutionise an industry dominated by heavy, conventional petrol-powered mowers by automating time and resource consuming tasks and, at the same time, helping to reduce CO2 emissions.
As we know, lawns and turf of any size require an incredible amount of time-consuming and expensive care and maintenance. Mowing, fertilising, watering, aerating, scarifying; the list goes on. Then when it comes to mowing options, you have to consider the fuel, the servicing, the insurance as well as parts and maintenance. Traditional petrol mowers are machines are noisy and obviously don't do the environment any favors.
Any business or commercial entity that has an attached greenspace to maintain will inevitably spend tens of thousands of dollars on skilled workers to sit on a ride-on mower for 1000s of hours per calendar year; rather than use their skill-set to do the specialised work they are qualified to do.
When Husqvarna launched its first robotic lawnmower back in 1995 it was largely underestimated. No one would have thought that these machines would be able to tackle the kind of outdoor spaces in which they are maintaining today or deliver the high quality, consistent and repeatable results that they are achieving.
Joe Rogers from Lawn Solutions Australia
Husqvarna has a full range of residential robotic lawn mowers or Automower right through to a range of professional robotic lawn mowers.
"Yes, essentially, productivity will go up. With the automation of mowing, it will just make your labor more efficient. I think a lot of it comes back to quality. Being an Automower owner, myself, I know how good it makes grass look. So, from both the production point of view, the commercial side like sports and golf, and the homeowner, I think the main thing is just quality of cut will be a massive difference. Everyone in our industry is happier if our products are looking better in their own environment. And I think Automower will do that", says Joe Rogers from Lawn Solutions Australia.
It goes without saying that the biggest benefit of all the Husqvarna robotic products is that the mowing is done autonomously leaving the trained professionals to attend to more detailed tasks. That's just the beginning of what these brilliant machines represent; particularly to us here in Australia.
"Husqvarna is dedicated to a sustainable future, leading the industry with low-carbon, battery-powered, resource-smart solutions. Through pioneering solutions, we empower people to make sustainable choices daily." says Pauline Nilsson, Vice President at Husqvarna Australia.
Over the complete product lifecycle – from production via transportation and operation, to end-of-life – the overall carbon footprint can be reduced by as much as 83 percent, when comparing a CEORA™ robotic mower with a petrol Husqvarna P 525DX ride-on mower.
The comparison is made on a scenario of a 30-week cutting season per year. The Lifecycle assessment (LCA) is based on the functional unit of cutting two football pitches (16,000 sqm) of average pitch grass lawn. CEORA is powered by EU electricity grid mix and Husqvarna P 525DX is powered by standard diesel. Result in global warming potential per season (kg CO2e/season).
The genius of the Husqvarna Automower® is in the simplicity of its concept. The mower is able to ensure a consistently healthy lawn because it continuously cuts just a few millimetres off the turf at regular intervals.
The mower's razor-sharp blades cut the grass cleanly allowing for healthy regrowth. The fine green clippings are left on the area as natural fertilizer ensuring the quality of the turf. As a result, grass roots grow up to 25 percent deeper and important nutrients are not only returned to the lawn, but the fine grass mulch that results from the cutting also protects the grass from drought.
Husqvarna's professional robotic range also impress due to their whisper quiet, direct emission-free and sustainable. The silence offers a great advantage, especially in noise-sensitive areas such as schools, hospitals or libraries. And sustainability is obviously a top priority for all businesses.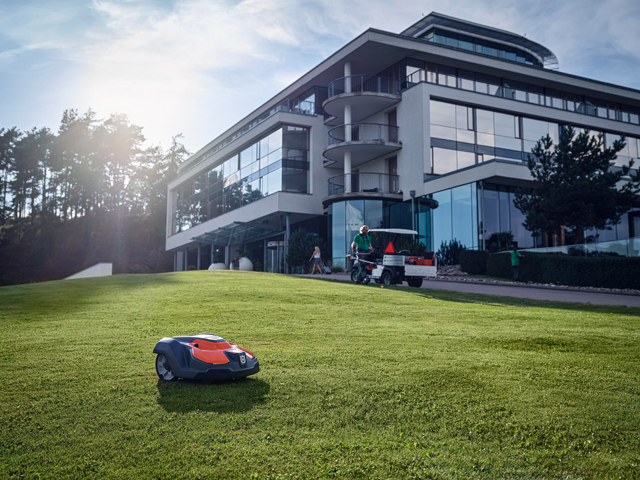 Husqvarna Automower® 550 Epos
Last year, Husqvarna set a milestone in public greenspace maintenance by introducing the model 550 EPOS heralding a range of Husqvarna EPOS Automower® to Australia that; thanks to satellite technology, are the advent of wire-free robotic lawn mowing solutions.
Husqvarna EPOS is a high-precision satellite navigation system for Husqvarna's robotic lawn mowers. Instead of using a traditional boundary wire laid along the edges of the lawn, the area where the machines can be used is virtually delimited using satellite data.
This year, Husqvarna Australia will be taking commercial turf care forward again with its CEORA™ robotic lawnmower. The CEORA™ is designed to tackle large areas up to a whopping 50,000m² and ensures a green, dense lawn thanks to its unique cutting technology in conjunction with daily mowing frequency and low ground pressure.
Thanks to the CEORA™'s track by track technology the mowers achieve a high standard of efficiency offering a 30 percent reduction in costs in comparison to conventional commercial combustion mowers.
Even more exciting are the promised adaptations and accessories that will be available for the CEORA™ after its release that will enable lawn stripes, line painting and low-cut deck for golf and other grass sports.
With all this said; the most impressive benefit of the CEORA™ series will be that it will tap into truly space age technology to work free of guide wires. With the help of a reference station equipped with GNSS technology - a type of high precision GPS - the location of the robotic mower can be recorded to within a few centimetres and a mowing accuracy of 2-3 centimetres can be achieved.
Instead of having to lay boundary wires, the CEORA™ defines a virtual boundary that is flexible and open to the need to make spontaneous changes to exclude certain areas of grass for reasons including maintenance and events. The simple, flexible installation and the option of spontaneously excluding mowing areas and closed areas open up unimagined possibilities.
Almost 30 years of imagination and innovation have led to the current and future Husqvarna robotic lawn mowers; we can only look forward to the advances that this global leader in outdoor power equipment is sure to bring in the coming years.
Find out more from Husqvarna Australia at the links below.
SEARCH
SUBSCRIBE TO ENEWS
MORE NEWS
REVOLUTIONISING TURF MAINTENANCE WITH HUSQVARNA
THE FUTURE OF COMMERCIAL TURF CARE
HUSQVARNA AUTOMOWER® | WHY PROFESSIONALS ARE MAKING THE SWITCH
HEAVY DUTY COMMERCIAL MOWERS
PROFESSIONAL LARGE-SCALE TURF CARE WITH CEORA™