HOLDING THE LINE
03 Jun 2015
Give shape and definition to your garden with strong and durable steel edging that is both unique and flexible, and delivers professionals results.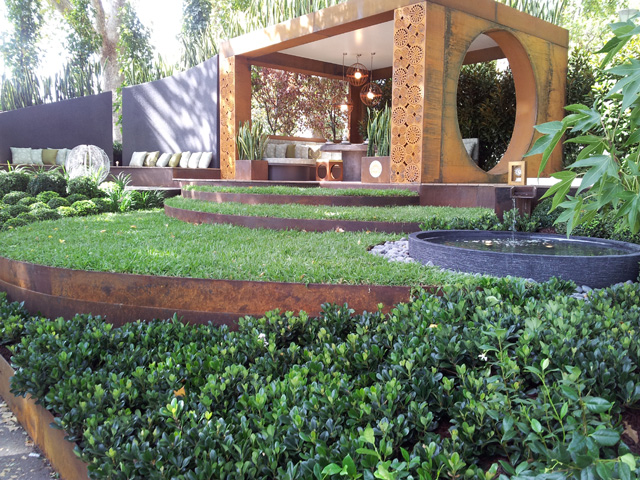 Greenlines Gardenware® Pty Ltd has designed and created a unique, flexible and strong edging solution. FormBoss™ metal edging means professional results and strong clear lines in any shape you want.
It is an exciting alternative to concrete, jarrah, aluminium, brick, plastic and other edging materials. It has been featured on Better Homes & Gardens several times, as well as assisting many award winning designs.
It is increasingly becoming the edging of choice for many high profile professional projects across Australia.
Heights available: 75, 100, 150, 185, 230, 290, 390, 580mm (recommended 1/3 buried under ground)
Thickness: 1.6mm, 2.0mm and 2.5mm (5.5mm – 7.5mm top lip diameter)
Finishes: available in NEW ZAM® Steel, rustic Corten steel, and our ever popular galvanised steel
Designed with durability in mind, ZAM® edging range comes with a structural guarantee of 15 years.
All galvanised steel edging ranges are slowly being transitioned into ZAM® steel.
Developed by a large Japanese corrosion research and development team at Nisshin Steel, and thoroughly tested by the French corrosion institute, ZAM® was engineered for the automotive industry and designed for countries with the harshest weather conditions.
In tests conducted by the French corrosion's institute, ZAM® has been shown to dramatically outperform galvanised steel in highly corrosive situations like marinas, boat sheds, industrial environments and even pool and spa areas.
FormBoss™ metal edging is elegant, shape-able, strong, durable, safe and most of all, cost effective.
Cheaper than plate steel, aluminium and concrete, it's quick and easy to install, saving you time and money.
For more information call 1800 367 626 or email info@greenlines.com.au
You can also visit the website www.formboss.com.au
Photos (top to bottom): Paal Grant Landscaping & Design; James Ross Landscaping & Design; and Joselito Bengua.
SEARCH
SUBSCRIBE TO ENEWS
MORE NEWS
GET BLOWN BY THE PROS
PLAYGROUND TAKEN TO NEW HEIGHTS
ROCK YOUR PROJECT!
COMMUNICATION, PLANNING AND SOIL
A WILD RENOVATION
2020 AUSTRALIAN INSTITUTE OF HORTICULTURE AWARDS