GREEN SPACES CONQUER URBAN JUNGLE
16 Aug 2016
A new proposal, dubbed "The Thailine", would see nearly 1 million square metres of existing space below major highways in Bangkok re-purposed into public spaces and green areas.
Bangkok, Thailand, renowned for its cultural vibrancy and constant activity is under siege from a multitude of issues affecting its urban functionality and liveability, including overpopulation, pollution, congestion and inflated land prices. These issues and more have arisen from the precipitous advance of its urban sprawl, outstripping the city's ability to deal with it. London based Marques and Jordy (M&J) have put forward a solution to ease this pressure and reinsert the public realm back into the metropolis. The proposal involves the transformation of unused space beneath major highways in the city, turning it into a public network dubbed "The Thailine."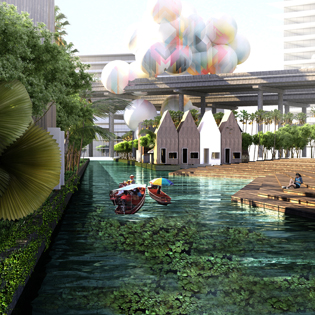 The Thailine represents the culmination of 3 years of intensive investigation by Jon Sealy, Global Design Director of M&J, into the communities that utilise the space. It proposes a complete rethink into how the areas are used and the ways that existing space in Bangkok could be repurposed to provide an increase in vital public space and amenity. Envisioned as a pedestrian and cycle path that interlaces ecologically sustainable initiatives with lively public space, the project would see green areas within Bangkok increased by over 200% and is designed to address a number of social, economic and ecological concerns.
Driven by a constant consideration of ecological impact and the reduction of carbon footprint, the proposal design interconnects responses to each of the main issues identified by John Sealy including air quality, water usage, health and energy usage. Waste treatment centres, health centres, private and residential zones are woven into the design tapestry and sustainable measures such as solar trees and gray water irrigation and storage are integrated throughout.
The Thailine was developed in consideration with Thai sensibilities and cultural values. "It's important that Thai values are enriched and imbedded into the scheme, it's really a development about Thai people and their communities" explains Sealy. "There is nearly a million square metres of space in these areas. We can develop this space for the people."
Addressing these Thai sensibilities will also mean creating a series of social and environmental amenities tailored to specific communities. Local artists, temples, pagodas, local markets and arts and craft centres will all be situated along the routes and local small business will also be integrated. The proposal is to provide a string of community areas which create a series of eco-sensitive shared public spaces under the existing highways.
Transport accessibility to the site will include pedestrian, bicycle, and a new hybrid infrastructure of electric tuk-tuk.
The existing klongs (canals), once cleaned, treated and extended into new areas will provide space for floating markets and an industrial network connected by water. The idea is to re-establish Bangkok as the Venice of the East and make the city a forward thinking sustainable city of the future.
If undertaken, the proposal would see the active revival of economic activity in the area as well as providing much needed public and community space and amenities to increase community and land value.
SEARCH
SUBSCRIBE TO ENEWS
MORE NEWS
UP, UP AND AWAY
OXFORD STREET'S CREATIVE TRANSFORMATION
KILLA DESIGN FOR FUTURISTIC MUSEUM
BUILDING SUSTAINABLE, OPEN CITIES
ELEPHANT WORLD CULTURAL COURTYARD
LANDSCAPES GOOD ENOUGH TO EAT