GET THE LOOK YOU WANT
24 Jun 2021
The Aussie UnderCover® is the only hidden pool cover system on the market that provides the option to choose its finish.
Make the lid match its environment, or design it as a feature. Choose a finish of tiles or pavers up to 20mm thick, natural timber, composite decking or even fake grass - the choice is yours! Designed to seamlessly become part of a pool area, you only see it when you want to use it.
The Aussie UnderCover® is attractive, adaptable, and affordable, coming in eight different sizes, which are adjustable on site to suit most situations. It's also available in a semi remote-control Powered Version called the Power21.
Not only is the Aussie UnderCover® the only system that can be tiled, it's also the only system that can easily be upgraded from manual to power and soon from power to solar.
Mountain Masterpiece
This pool, designed and installed by Real Aussie Pools at Woodhill on the NSW South Coast, is a rural stunner. The pool takes advantage of the fabulous coastal views over Seven Mile Beach and the hinterland at Gerringong. A pool cover was required, but the vista could not be destroyed by a standard above ground roller or a visible aluminum cover system. The Aussie UnderCover® was the perfect solution, as it's completely concealed under the travertine paving using a matching 12mm tile on the lid frame. The system also fits into a tiny 390mm wide cavity and is designed to walk on, which means it can easily be part of the pool high traffic area.
Decking Delight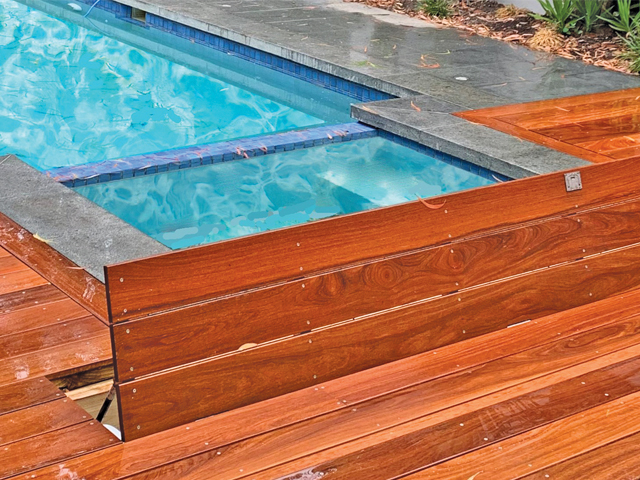 This Aussie UnderCover® under deck installation in the Melbourne suburb of Balwyn North, features a 138x22mm spotted gum covered lid frame, completely concealing the pool cover within the pool deck. Matthew of Mackenzie Landscape Constructions adapted the lid frame to fit three wide boards, so the lid is seamless within the deck. The Aussie UnderCover® is positioned in front of the spa, in a high traffic area, and again is only visible when you need to remove or restore the cover to the pool. This installation also features the Power21 semi-remote-control system.
Courtyard Classic
In the picturesque area of Kincumber, NSW, this Aussie UnderCover® was also installed to maximise the available pool side space. A 15mm tile is used on the lid frame to match the surrounding paving, making the system virtually invisible.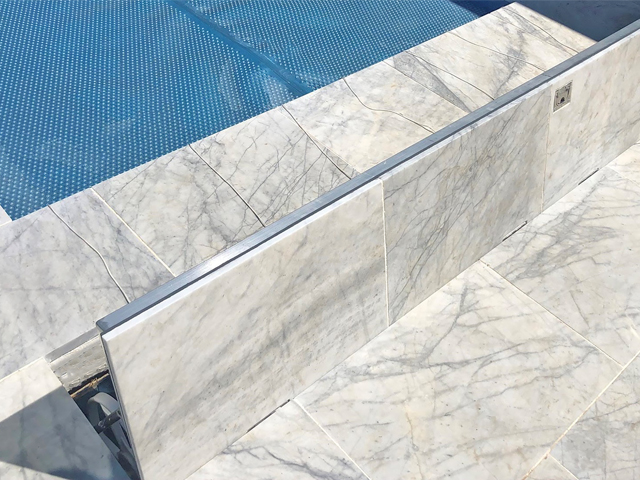 Ready to enjoy the Aussie UnderCover® difference? Get advice on installation options and system positioning to suit your client's needs from the Aussie UnderCover® team via the links below.
SEARCH
SUBSCRIBE TO ENEWS
MORE NEWS
LUXURY LAGOON
AUSSIE UNDERCOVER® NEW KIT SIZE
AQUASCAPE RECREATION PONDS ON THE RISE
A SWIMMINGLY GOOD IDEA
PERFECT POOL COVERS
PLANS FOR A SWIMMABLE SYDNEY HARBOUR REVEALED