FLOATING FOREST
23 Jun 2022
As part of Milan design week earlier in June 2022, Italian architect Stefano Boeri collaborated with popular shoe brand Timberland to create the "floating forest" on the river Darsena.
With an aim to promote regreening in urban areas, the floating forest also displayed Timberlands environmentally focused products. The Timberland products were showcased throughout the floating forest with opportunities to use a QR code to initiate an augmented reality experience. As well, quotes such as "Leave your footprint and be part of the change" was the displayed motto for the exhibit both alluding to the message of urban greenery and Timberland footwear. Pedestrians were able to stroll through the urban oasis and discover the messages and adorn at the extensive plant life throughout its installation in Milan design week.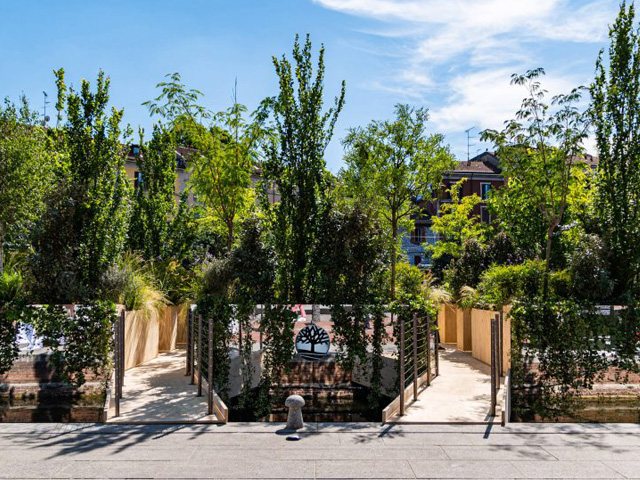 Stefano Boeri explains that the idea for the floating forest initially came from demonstrating the power of urban greening to help combat climate change and improve the quality of life for individuals.
The floating forest contains 610 plants from 30 different species. After Milan design week, the plant life will be donated to the Soulfood Forestfarms Hub Italia, a not-for-profit organisation dedicated to biodiverse forest farms.
The materials used to build the floating forest are reusable as they were dry assembled and can easily be pulled apart. With the strong message for urban greenery and climate change action, the project was thoroughly thought through in every stage, from beginning to reusable end.
Stefano Boeri explains he wanted to leave a legacy for the city of Milan and with many cities striving for more greenery in urban environments, the floating forest is an inspiration point for many to look at and see the benefits and message behind the floating forest.
Images courtesy of Dezeen
SEARCH
SUBSCRIBE TO ENEWS
MORE NEWS
WINTER EDITION OF PLA JOURNAL OUT NOW. GET YOURS!
SUSTAINABLE SOLAR PANELED FACADE
WALK ON THE WILD MILE SIDE
URBAN REVITALISATION WINS PREMIER'S PRIZE
TRANSFORMATIVE PROJECTS AT NSW ARCHITECTURE AWARDS
THE VICTORIAN PRIDE CENTRE