DOUBLE THE SUMMER FUN
11 Oct 2018
Imagination Play's exciting new Water Play series and AUS Nature series can help you create an adventure-themed playspace that will entertain kids and teens alike through the scorching Australian summer.
Imagination Play can help you design a nature-themed playground that will entertain children for hours, encouraging them to actively use their imagination and engage in exciting roleplay. Althernatively, a waterplay space can engage children and teens in play while helping them to cool off under the hot Australian sun. With many different elements and designs, Imagination Play's new equipment can create an exciting themed playspace to draw in visitors of all ages.
AUS NATURE SERIES
Imagination Play are leaders in the design, supply and construction of playground equipment throughout Australia and the South Pacific Region, and are very excited to release their AUS Nature range.
Using quality red gum, red iron bark and jarrah sourced from sustainable resources across Australia, they manufacture standard and custom nature-based playground equipment to suit each project.
Imagination Play provide nature-based playgrounds for early learning centres, schools and public spaces that enhance the natural beauty of the environment and provide a playspace full of natural tones and textures that children can engage with.
Children reap the benefits as they grow their appreciation of the natural environment, as the AUS Nature range significantly improves all aspects of child development: physical, cognitive, social and emotional. Playing outdoors builds resilience, self-confidence, initiative, creativity and more.
The standard play range uses standard logs and includes swings, rope nets, balancing features etc. Bespoke features use carefully selected unique logs for ground play elements up to multi-level structures, either constructed or clad in half logs.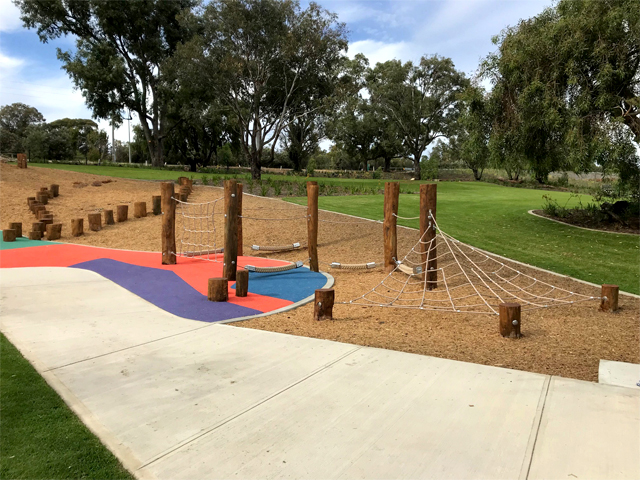 WATER PLAY SERIES | MAKING A SPLASH IN AUSTRALIA
This spring, Imagination Play are bouncing into waterplay with a compelling range of aquatic play experiences.
Featuring sophisticated architectural appeal for urban designs, each element has a character of its own and includes multiple water disbursement features such as spray, splash, buckets, tunnels, water rings, spill mix, sheet, dump, dome, shower, spin, mist and jets.
Imagination Play can design a waterplay experience for all types of budgets! The Water Play series can be themed with an extensive range of animals and elements to create popular environments such as jungles, pirate/treasure themes, farms, sports, the ocean and nature.
All waterplay elements can be designed to suit a specific age or a range of ages and abilities, with multi-level play or ground-mounted play to climb on or over and everything in-between.
The Water Play range is designed using a flow-through water management system. This is a highly cost-effective solution for locations that incur water restrictions. It is ideal for repurposing the water for irrigation and reintroduction into the ground as percolation and water retention ponds. This water management system includes recirculation system components for reservoirs, drains, chemical storage and metering systems, rain diverter system, etc.
For information on the New AUS Nature series or the New Water Play Series contact Imagination Play sales team on (03) 9738 1767 or via email enquiry.
SEARCH
SUBSCRIBE TO ENEWS
MORE NEWS
PLAYGROUND OF THE CARIBBEAN
LILY FLOATING PLAYGROUND
MANGURI WILTJA
THE CIRCLE OF PLAY
SUSPENDED FROM THE TREETOPS
THE RETURN TO MAORI GAMES