DISCOVER AZERBAIJAN AT EXPO MILAN
18 Jun 2014
The Azerbaijan Pavilion for Expo Milan 2015 is based on a modular system with each of its levels representing a different biosphere.
Three Italian practices, Simmetrico Network, Arassociati Architecture and Landscape Studio AG&P have completed the design of Azerbaijan's pavilion for Expo Milan 2015. The project follows a modular system that allows for a greater flexibility of space and the potential to reconfigure the temporary structure in a variety of different ways.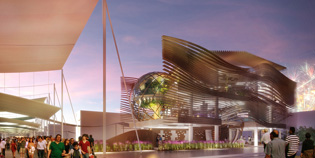 Guests enter through a large atrium that doubles as an event space, before escalators lead to three separate levels – each representing a different biosphere. The three spheres invite visitors to discover the territory of Azerbaijan, the variety of its resources and climatic areas, its culinary tradition and its mix of cultures.
The first level is a biosphere of geographical landscapes, as a crossroad between countries; the second explores the nine geographic climatic zones of Azerbaijan, and the third comprises an elegant restaurant and terrace overlooking the rest of the expo site dedicated to traditional culture and innovation for generations to come.
Horizontal and flexible timber bands form the structure's envelope, bringing natural light inside the pavilion and reducing required energy consumption.
The 887 square metre structure is built with simple and clean shapes, made of materials typical to Azerbaijani territory that provides minimal energy waste. The project follows a modular scheme that permits a great flexibility of spaces and the possibility to rearrange the pavilion in different ways.
Its individual interpretation of the theme of Expo Milan 2015 - Feeding the Planet, Energy for Life - is centred on thematic itineraries that aim to educate visitors on Azerbaijan as a great producer and exporter of organic, genuine and healthy products. It also seeks to promote the great historical and cultural traditions in the food industry and to introduce a new political vision focus on sustainable development, biodiversity and health for future generations.
After the event closes on October 31, 2015, the pavilion will be dismantled, and reused within the Azerbaijani capital of Baku.
SEARCH
SUBSCRIBE TO ENEWS
MORE NEWS
'CHRISTMAS TREES' FOR LONDON
GREENERY COVERED TIMBER BUILDINGS
STREET FURNITURE AUSTRALIA BRINGS PEOPLE TOGETHER
NEW CULTURAL PRECINCT FOR COFFS HARBOUR
MUSEUM TO FLOW LIKE A RIVER
PARK WARRIOR COURSES FROM A_SPACE