COMPOSITE TIMBER COMES TO THE 'FORE'
22 Nov 2018
Capped with a layer of durable, weather-resistant Futurewood composite timber, this Gold Coast golf driving range not only looks great but will stand the test of time – guaran-tee-d!
Easily seen from the highway, due to its huge net stretching across the 90 driving bays spread across its three storey mass, this new Gold Coast driving range nonetheless nestles nicely within the natural landscape thanks to the extensive use of Futurewood composite timber.
Futurewood CleverDeck 138mm solid composite timber decking boards in Slate Grey were used to clad the exposed 600mm x 400mm steel columns that support the impressive structure, improving the overall aesthetic of the building and keeping maintenance to a minimum in the hot, high-humidity climate.
CleverDeck 138mm decking is typically supplied as a grooved-edge board, which helps facilitate the concealed fixing option that is the preferred installation method when used for decking. However, for this project, cladding the columns required face fixing the boards with raised head screws. To facilitate a clean edge on the corners of the columns, a special die was made to produce custom square-edge boards.
Square-edge decking boards were also used as rub rails on the facility's walls, to protect them from damage caused by the high number of trips made by the food and beverage carts that traverse the walkways keeping hungry patrons well serviced.
As the new facility is set among the Gold Coast theme parks, a long screening fence was built around the service side of the facility, separating it from the carpark and helping it to blend into its surroundings. The fence was constructed from Futurewood EnviroSlat 70mm x 15mm boards in Slate Grey to match the rest of the facility.
In addition, a 300m-long pedestrian bridge, which joins the golf range to the adjacent theme park, was constructed from 138mm x 23mm CleverDeck Original solid composite timber decking boards, also in Slate Grey.
Contact Futurewood for more information on their full range of composite cladding, decking, fencing and screening selections.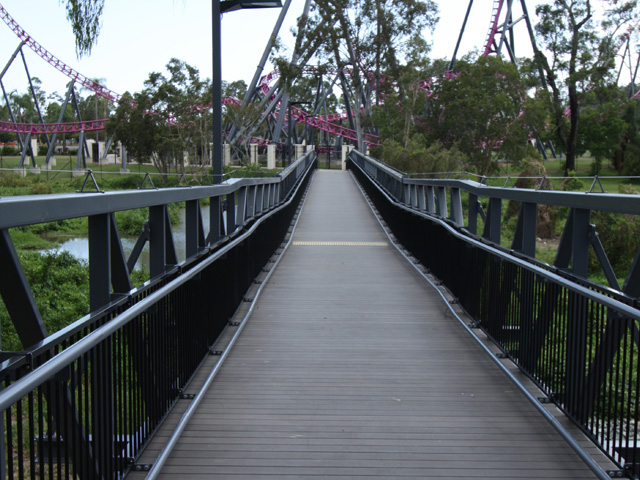 SEARCH
SUBSCRIBE TO ENEWS
MORE NEWS
A WIDE CHOICE
DECKING THAT STANDS THE TEST OF TIME
CREATING TIMBER ALTERNATIVES
LOW-MAINTENANCE DECKING SOLUTIONS
AMAZING STRENGTH TO WEIGHT RATIO
CONCRETE AT ITS BEST