CLYDEVALE PARK: A BOTANICAL MASTERPIECE
12 Oct 2017
What happens when you engage Australia's foremost nurseryman to design and build a central park in a new community? A lively public space and a stunning botanical masterpiece is created!
Clydevale Living, located in Clyde North, Victoria, is a large-scale residential development that has taken the lead in delivering something very special for its residents.
Developer, Abiwood, took the bold step to work with a 'plants man' in creating the greenspaces within the development, rather than choosing traditional landscape architects. Working closely with Wes Fleming OAM through the early planning stages, and engaging Fleming's to design and implement their central park, turned out to be a stroke of genius.
Completed in May 2017, the 1.2ha park within the estate brims with avenues of trees, swathes of crepe myrtles (lagerstroemia), Nyssa (Nyssa sylvatica 'Forum'), and a beautiful archway of Parrotia (Parrotia persica) – all combined for impact at any time of year.
Specifically placed London Plane (Platanus x acerifolia) trees in 'umbrella' shapes serve as feature trees dotted around the barbecue and entertaining spaces that will, in time, provide natural shade structures.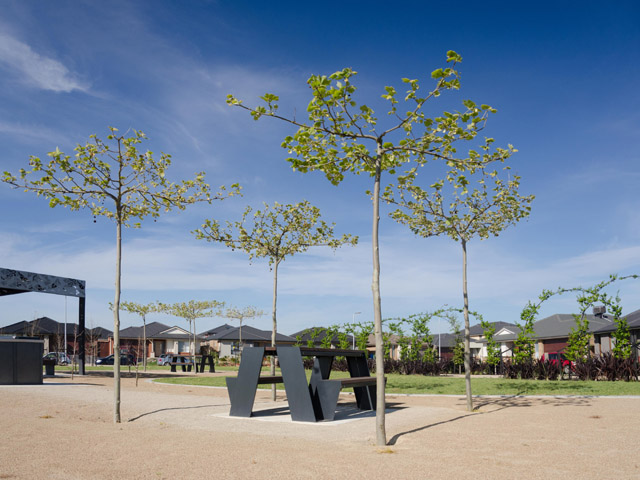 Not content to rest the success of the design on the botanics alone, Fleming created feature sculptures throughout the park. Architectural in nature, these features light up at night and make a powerful impact on the landscape. The shapes of the structures are reflected in the swings within the park, providing an edgy yet functional addition.
The park also features open lawns finished with an amphitheatre that is ideal for entertaining and lounging on. The kid's park includes a fortress, a huge sandpit where the dedicated explorer might find dinosaur bones … and much more.
Wes Fleming took a hands-on approach to the design and implementation of the park – referring to it as his 'baby'. "It was important for me to work hand-in-glove with our internal architects, and our in-house construction team, to ensure the outcome was anything but 'run of the mill'. We spent many hours meeting with council to engage them on the vision for this park and why it had to be unique," claims Wes.
"The intention is for the future. So that while the park looks great today, it will continue to develop into a majestic space to enjoy for generations," he adds.
For more about Fleming's landscape services head to the Fleming's website. For more about Clyevale Living visit clydevaleliving.com.au
SEARCH
SUBSCRIBE TO ENEWS
MORE NEWS
'A NEW NOW' INSTALLATION BRINGS OPTIMISM TO PARIS
MEMORIAL GARDEN FOR COVID-19 VICTIMS
TOOLS TO IMPROVE PUBLIC SPACES
2021 PARKS AND LEISURE AUSTRALIA NATIONAL CONFERENCE
FINANCIAL BOOST TO GET AUSTRALIAN GARDEN GROWING
VICTORIA'S NEW DESIGN STANDARDS