BLOOMING GLASSHOUSE
28 Jul 2022
An unfolding Glasshouse has bloomed at the Silk Route Garden in Woolbeding Gardens in England.
Photo Raquel Diniz
Inspired by Victorian terrariums, London-based Heatherwick Studio has designed a pyramidal ten-sided Glasshouse that opens and closes depending on the weather.
Photo Hufton + Crow
The gardens surrounding the Glasshouse are symbolic to British horticulture. Curated as a 12-step journey that replicates the Silk Road, an ancient trading route between Europe and Asia. The Silk Road had a profound influence on British horticulture and introduced a variety of plant life to the British terrain. The winding path leading to the Glasshouse includes 300 plant species that were introduced to Britain via the Silk Road.
Photo left Hufton + Crow | Photo right Raquel Diniz
The Glasshouse is constructed using ten steel workings that support the angled glass panels. Using a hydraulic mechanism that was developed by structural engineers Eckersley O'Callaghan, the Glasshouse can open and close. The Glasshouse opens only on warm days to expose the subtropical plants and shrubs to the sun and provide ventilation to the greenhouse. On cold days, the Glasshouse remains closed to protect the plant life from the elements.
Photo Hufton + Crow
The four-minute opening process of the Glasshouse resembles the sepals of a flower, from closed and protecting the greenery inside, to blooming and opening up the plant life to the elements. The fully opened Glasshouse forms into the shape of a crown.
Built for the heritage charity, National Trust, this one-of-a-kind greenhouse is a sight to behold. With its symbolism of British horticulture and innovative structural design, the blooming Glasshouse is an architectural artwork that shines a light on the journeys and influence of plant life in Britain.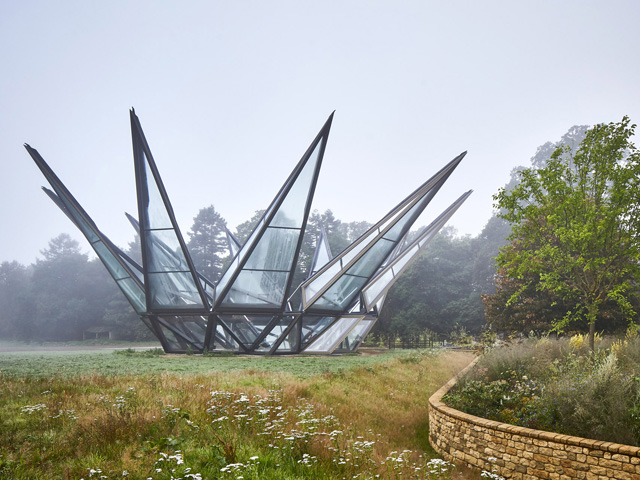 Images courtesy of Dezeen, Photo Hufton + Crow
SEARCH
SUBSCRIBE TO ENEWS
MORE NEWS
SERENITY 4212 ENTRY STATEMENT
23RD ANNUAL INTERNATIONAL GARDEN FESTIVAL
BECOME A MASTER LANDSCAPER
2021 PARKS AND LEISURE AUSTRALIA NATIONAL CONFERENCE
TOOLS TO IMPROVE PUBLIC SPACES
PEDESTRIANISED PIAZZAS FOR OXFORD CIRCUS