CHINA'S OPEN HAND
11 Jun 2014
A large scale development envisioned as five fingers connected by the 'palm' is currently under construction in China.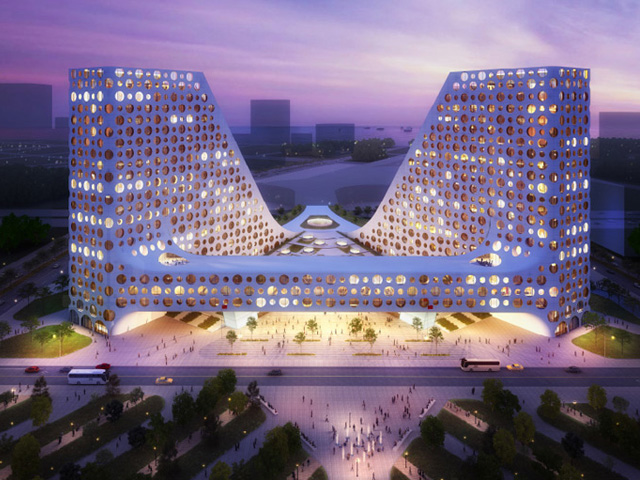 Construction is underway on China's eastern coast for 'Qingdao Open Hand', a large scale development designed by JDS architects. To be completed in two separate phases, the scheme is envisioned as five fingers, connected by its 'palm' – a large open public space that covers the building's respective rooftops and provides views out to sea.
Responding to the region's urban complexities, the first stage of the project involves the realisation of 180,000 square metres of commercial office space, to be contained within the two most prominent digits of the hand. At ground floor level an expansive public square welcomes guests to the site, with a generous provision of parking found below street level.
Two monolithic blocks, shaped to maximise external views, rise above the landscape, connected by a plinth that is elevated above the entry plaza. Repeated circular apertures of varying diameters line the building's distinctive façades, ensuring that internal volumes share a close relationship with the surrounding environment.
SEARCH
SUBSCRIBE TO ENEWS
MORE NEWS
ORCA DELIVERS DRAINAGE AND GRATING SOLUTIONS
AILA 2020 NATIONAL AWARDS
ELITE SPORT PRECINCT SETS UP VICTORIA AS A WINNER
GET IT TO GROW WITH GGS
SEEKING AN AQUATICS DIRECTOR
TAKE A LOOK AT EXPO 2020 DUBAI