BEIJING'S URBAN PARK
07 May 2014
A Park Plaza in Beijing aims to bring nature back into the dense city landscape with mountain-shaped office buildings, lush landscape elements and flowing water features.
To soften the harsh cityscape of Beijing, MAD Architects have designed Chaoyang Park Plaza, an urban park that brings nature back into the dense city landscape with built forms and spaces inspired by Chinese classical landscape paintings.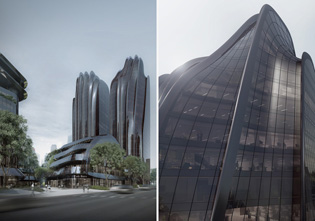 The project, which just began construction, features mountain-shaped office buildings surrounded by a river valley-like landscape.
Located in the central business district of Beijing, Chaoyang Park Plaza borders the southern edge of Chaoyang Park, one of the largest public parks in Beijing.
The mixed-use urban plaza will comprise nearly 30 acres of commercial, office, and residential buildings. MAD Architects' energy efficient building designs and an innovative air purification system are expected to help the project secure LEED Gold certification.
Inspired by tall mountain cliffs, a pair of asymmetrical towers dramatically rises from the ground like mountains with ridges and glazed valleys that allude to the forces of erosion. At its base, MAD Architects placed four office buildings shaped like short, rounded river stones that are also ridged to create a weathered appearance as if eroded through time.
Lush landscape elements and flowing water features are situated between the buildings to complete the illusion of a mountain forest landscape.
SEARCH
SUBSCRIBE TO ENEWS
MORE NEWS
ZERO-EMISSION AIRPORT CONCEPT
BRINGING STYLE WITH ASTRA STREET FURNITURE
INFRASTRUCTURE RECEIVES MULTI-BILLION-DOLLAR BOOST
AILDM 2020 DESIGN WINNERS
AUTHENTIC LE CHÊNE VERT ANDUZE POTS
READY TO CONSTRUCT SPLASHPARKS FROM PLAYSCAPE CREATIONS