AUSTRALIA'S TOP LANDSCAPES REVEALED AT NATIONAL AWARDS
25 Oct 2023
The Australian Institute of Landscape Architects (AILA) has announced the winners of the 2023 National Awards at an event held in Adelaide. The jury, made up of renowned landscape architects, academics and built environment professionals, honoured 51 winners for their positive impact on the country's regions, towns and cities.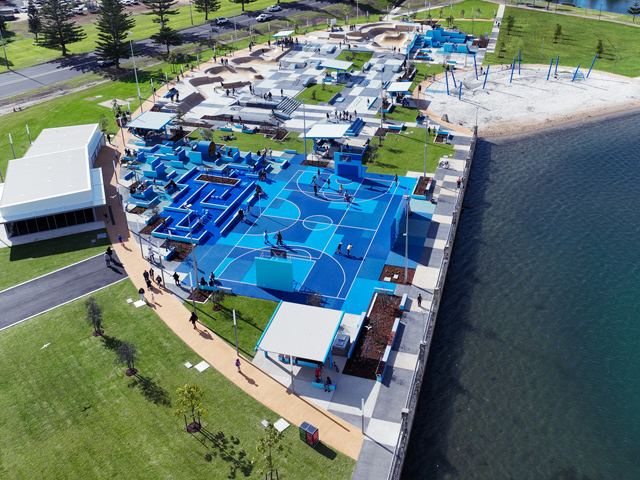 Koolambidi Woola - Bunbury Youth Precinct, Playce Pty Ltd, Parks and Open Space Landscape Architecture Award | Photography Shane Richardson
AILA National Awards Jury Chair Claire Martin says the work of landscape architects is more important than ever.
"The need for landscape architecture has never been greater," she says. "Whether by accelerating adaptation, strategising for carbon and flood mitigation, increasing biodiversity or improving the health of our waterways. Likewise, landscape architects can strengthen people's connection with their environment and to each other, improve livelihoods and health outcomes, foster truth telling and simply bring joy to people.
"In an emerging context of increased loss, damage, isolation, inequity and reduced insurability, the 2023 National Award winners offer valuable case studies on the benefits of good design.
"They demonstrate what is possible when, as a community, we invest in living infrastructure now and into the future. The jury commends the winners for their skill, commitment and conviction."
Community Spaces Win Big
Tract and World Trails' Great Ocean Road Trail Master Plan took out the top Award of Excellence in the Landscape Planning category and a Regional Achievement Award. The Great Ocean Road Coastal Trail Master Plan guides the future construction of a 90km long walking trail connecting communities from Fairhaven to Skenes Creek. The jury said "The Great Ocean Road Coastal Trail Master Plan raises the bar for comprehensive master-planning and design in one of Victoria's most iconic stretches of landscape. Its aim is to increase the area's capacity to support a diversity of experiences and user abilities. The jury was impressed by the calibre of thinking and leadership demonstrated by the project, the high quality of its communication and its engaging treatment of content."
Great Ocean Road Coastal Trail Master Plan, Tract and World Trails, Landscape Planning Award of Excellence | Photography DELWP
Queensland's Hanlon Park/Bur'uda Waterway Rejuvenation by the Brisbane City Council, Tract, Bligh Tanner, Epoca Constructions, and AECOM, won an Award of Excellence in the Parks and Open Space category, a Landscape Architecture Award in the Land Management category and a Climate Positive Design Award. The Hanlon Park/Bur'uda Waterway Rejuvenation has returned nature to inner-city Brisbane, following an ambitious council program to holistically rethink the Norman Creek catchment. Previously an underutilised space with a concrete-lined channel, the newly naturalised creek has become a thriving place for people, thanks to a design that responds to Country, community, and ecology. The jury said "The project successfully combines flood and heat mitigation with increased biodiversity, delivering enhanced cultural, social, environmental and economic benefits."
Hanlon Park/Bur'uda Waterway Rejuvenation, Brisbane City Council, Tract, Bligh Tanner, Epoca Constructions and AECOM, Parks and Open Spaces Award of Excellence | Photography Christopher Frederick Jones
JPE Design Studio's Thorndon Park Playground in South Australia took out Australia's best playground, winning an Award of Excellence in the Play Spaces category. The one-of-a-kind playspace offers a varied range of play opportunities for people of all ages and abilities and is inspired by the diverse and plentiful bird life that Thorndon Park is known for. The jury said "Thorndon Park Playground is an exemplary project that illustrates how landscape architects can deliver diverse and unique play experiences while remaining grounded in local site and community needs."
Thorndon Park Playground, JPE Design Studios, Play Spaces Award of Excellence | Photography David Sievers
President's Award
The 2023 President's Award is a well-deserved honour bestowed upon Fiona Morrison, who holds the esteemed position of Commissioner of Open Space and Parks at the Department of Planning and Environment in New South Wales.
The award pays tribute to Morrison's outstanding contributions to the field of landscape architecture and, in particular, her remarkable work within the realm of public practice. Over the past five years, Morrison has demonstrated exceptional leadership, significantly shaping government policy and deepening the appreciation for the pivotal role that public spaces occupy at the heart of our communities.
The jury said "Although her primary influence has been in New South Wales, Morrison's impact resonates throughout the nation. She serves as an inspirational figure for the profession, motivating landscape architects to explore roles within public practice and encouraging the establishment of pathways for ecological restoration and environmental reconciliation.
AILA is the peak body for Landscape Architecture in Australia, championing quality design for public open spaces, stronger communities, and greater environmental stewardship.
SEARCH
SUBSCRIBE TO ENEWS
MORE NEWS
2023 VICTORIAN LANDSCAPE AWARD WINNERS UNVEILED
AURA BY AQUALAND'S LANDSCAPING TO REFLECT NORTH SYDNEY'S DISTINCTIVE CHARACTER
WINNERS OF THE TLA 2023 LANDSCAPE EXCELLENCE AWARDS
2023 LANDSCAPE QUEENSLAND CONSTRUCTION EXCELLENCE AWARDS
WORLD-FIRST WASTE RECYCLING FACILITY TO OPEN IN BRISBANE
LANDSCAPING VICTORIA'S IMMERSIVE ECHUCA ROADSHOW