ARTWORK THAT STRENGTHENS THE PUBLIC REALM
16 Aug 2017
With a vast selection of products designed to inject artistic style into commercial projects, Locker Group can help you instill a sense of 'place' into public spaces with the addition of structural art.
Suited to a range of commercial designs and landscapes, Locker Group materials add texture and context to any outdoor space. With over 60 years of industry expertise driving the company's ever-developing product range, project-specific design requirements are essential in understanding which Locker product is best suited to your project.
Public art can dramatically increase and instil a sense of place into public realm facilities, bringing together several elements and harmonising the overall design of the landscape. The team at Locker Group have designed and manufactured several products that will help you incorporate a range of artistic designs into your next project.
Create stunning shading structures with horizontal Pic PerfTM panels. Indelible images protect from the sun's glare, while also projecting stunning visuals on the ground below. Alternatively, utilise the floating texture of a TransitTM curtain draped over a structure. The result is a mix between form and function; a beautiful aesthetic which protects from heat.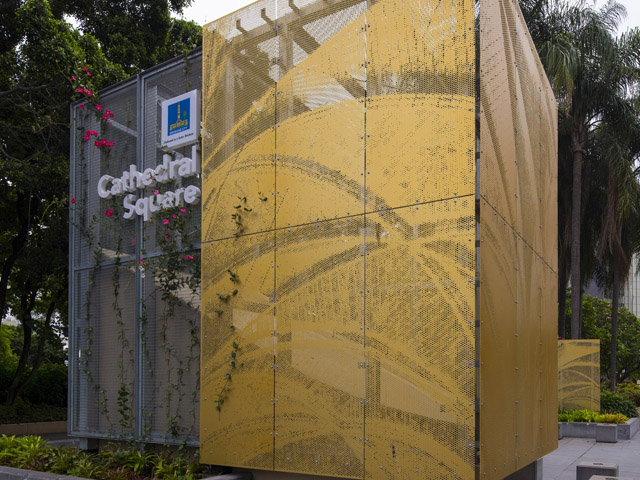 At Cathedral Square in Queensland, a mix of Locker Group's woven wire and Pic Perf elements have been combined to provide a back drop for signage, while offering protection from a stairwell and a visual connection to surrounding historical buildings.
Locker mesh is equally suited to artistic installations and sculptures; free flowing or static. Transit curtains, available in a choice of profiles and ribbon sizes can be installed in tension, as per the Floating Umbrellas or allowed to flow with the wind, as they are at Claisebrook. The individual pieces required for the floating umbrellas were manufactured to order; each segment specified and manufactured for a smooth application. The addition of lighting augments the installation, allowing for further flexibility and whimsical fancy.
Combining Pic PerfTM with Locker Group's industrial flooring range, provided a safe, non-slip walkway through AK Reserve, Perth. Manufactured in weathering steel, the Pic Perf elements are interspersed with SafeTPerf planks allowing the designer to inject an acknowledgement of the native flora and fauna, without sacrificing the required safety elements.
Visit the Locker Group website to see more inspirational applications and profile images, and speak to the team today about their local manufacturing and custom design facilities.
SEARCH
SUBSCRIBE TO ENEWS
MORE NEWS
A ONE-OF-A-KIND SKATE PARK
DUNSBOROUGH PARK FACELIFT
URBAN RENEWAL IN MEXICO
RESIDENTIAL ARCHITECTURE WITH A TWIST
THE PIC PERF® ALTERNATIVE
SHEPPARTON CUBE MUSEUM