ARTISTIC SHADE CANOPIES
25 Mar 2015
House of Bamboo now offer artistic laser-cut shade canopies which provide an effective shade solution while creating beautiful, dappled light.
House of Bamboo's versatile overhead shade and privacy screen range make a beautiful and functional solution for any exposed outdoor setting.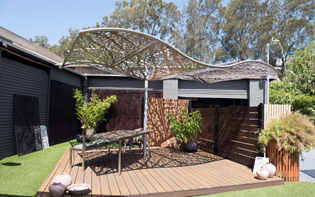 The new range of NatureShade® 'Sienna' series shade canopies are created from curved, stainless steel frames fitted with 2mm aluminium laser cut screens, which you can select from a range of artistic Sanctum® designs. The shade frames are available in brushed silver aluminium, or they can be powdered-coated any colour to coordinate or contrast with your existing outdoor setting.
These artistic, sturdy shade frames allow good air flow and light to permeate. The patterns can be modified in their cut to permit slightly wider or narrower opening spaces in the canopies, allowing dappled light and effective shade.
NatureShade® structures can also function as a privacy screen from higher neighbour dwellings, and they can complement side privacy screens in an identical or similar pattern. A welcome innovation, these structures are modern in design, which will suit many contemporary homes and outdoor spaces.
The NatureShade® shade canopies are available in lengths of 4.5m with a width of 2.5m, and can be installed in variations that suit the context. For example, a single shade screen can be fixed permanently with two metal poles at the angle that suits the aspect, or two screens can be similarly installed alongside each other. Alternatively, a double screen may be installed on a single pole, allowing the shade screening to be rotated a full 360 degrees or angled to suit the varying shade needs at morning or afternoon.
For more information, or if you are interested in viewing the varying patterns for shade canopies, please visit our website, or call us on: 1300 665 703.
SEARCH
SUBSCRIBE TO ENEWS
MORE NEWS
CANTILEVERED SHADERUNNER® RETRACTABLE SAIL
SHADE THAT MAKES A STATEMENT
RICKY SHADE FABRICS HAVE GOT YOU COVERED
CLEANER AND GREENER TEXTILE OPTIONS AT RICKY
RICKY SHADE FABRICS HAVE GOT YOU COVERED!
IT HAS TO BE BLISS