ART-PARK A BLEND OF ART AND CULTURE
07 Oct 2015
Plans for an Art-Park currently underway in Bali include green space that will also serve as exhibition space, and include artist residences and visitor housing.
US firm Aranda\Lasch has unveiled plans for an art park for a Chinese-Indonesian philanthropist, proposed on terraced rice paddies in the Bali countryside.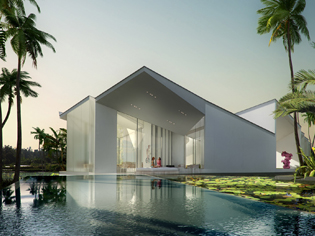 The project, called Budidesa, is featured in the Chicago Architecture Biennial, which opened on 3 October 2015. The development will encompass 15,000 sqm on a tropical site just north of Denpasar, the capital of Bali.
The area features hills covered in rice paddies, with a river at the base of the hills. "The rice paddies are terraced in a typical Balinese way as they descend down to a heavily forested valley along the Ayun River bank," explained Aranda\Lasch.
The brief called for gardens, exhibition space, artist residences and visitor housing, along with a family home for Budi Tek, a Chinese-Indonesian entrepreneur, philanthropist and art collector.
Tek started the Yuz Foundation to promote Chinese and Indonesian art and culture. The organisation has already built art museums in Shanghai and Jakarta.
Budidesa will serve as both the headquarters for Tek's foundation and the site of his personal home.
"This project fits into the increasingly prevalent model of the art foundation as cultural destination where the type of work being displayed represents the predilections of an individual collector," said the firm.
The Budidesa park will be organised along a continuous circuit through nature, with large-scale contemporary artwork on view. The area is known as the Balinese Subak Cultural Landscape – portions of which are a UNESCO World Heritage Site.
The surrounding rice paddies are watered through an ancient system called Subak. "Groups of farmers are organised in a network of local water temples, where the annual rhythm of water distribution is tuned through a collective, decision-making process," said the firm.
"The inclusion of contemporary art into this landscape is charged with problems and opportunities," it added.
The problems include the challenge of bringing non-indigenous art into a sensitive ecological and cultural area.
"But this is precisely the opportunity the project offers, showing how architectural and landscape design can help maintain the cultural identity of the Subak system while supporting a framework for the display of contemporary art," said the firm.
"The project will give heightened visibility to the Subak as an evolving system capable of sustaining new forms of culture, in the face of rising pressure from a growing population and increasing tourism," it added.
The firm said the Budidesa project is currently underway, as the first roads were constructed this past summer.
SEARCH
SUBSCRIBE TO ENEWS
MORE NEWS
PLANTING ON A SLOPE
CANTILEVERED SHADERUNNER® RETRACTABLE SAIL
MOUNTAINS OF FUN
ONE-OF-A-KIND OBSTACLE COURSE
VISIONARY SURFACE TREATMENTS
CLEANER AND GREENER TEXTILE OPTIONS AT RICKY