AGED CARE FACILITIES STAY COVERED
06 Sep 2018
Providing quality aged care facilities is on the rise, with the implementation of more mindful and attractive outdoor spaces for residents. Shadeform are dedicated to ensuring these spaces are protected, thanks to their range of durable and attractive shade products.
As a nation, providing for our aging population in aged care facilities and assisted living is of unparalleled importance. More and more purpose-built aged care accommodations are under construction, with modern facilities, luxury designs and contemporary outdoor spaces at the heart of any successful development. Shadeform have been at the forefront of the increasing demand for shade and all-weather solutions for aged care facilities, supplying many of their shade products to enhance quality outdoor surroundings that are paramount to residents' phyiscal and mental wellbeing.
Shadeform have a range of shade and all-weather products that have the strength and durability to withstand years of use while providing a stylish and functional solution for almost any outdoor space. Whether it's a fixed waterproof PVC membrane structure or a remote-controlled retractable shade system, Shadeform have a wide range of solutions to cater for most applications.
Resthaven, Aberfoyle Park
Shadeform were recently engaged to design, supply and install a Shaderunner® retractable sail system and hypar shade sail at the new Resthaven aged facility in Aberfoyle Park, SA. Working for successful landscape contractor company, Outside Ideas, Shadeform provided full engineering and design, steelwork fabrication, shade manufacture and installation for the Shaderunner®. Shadeform also provided personal staff training to centre employees on the operation and use of the Shaderunner® at the facility. The result is a fantastic deck area that provides a valuable and usable space for residents and visitors to Resthaven, while ensuring they remain protected from the weather at all times.
The Shaderunner® used at the facility is motorised, which provides the ultimate convenience for users of the deck area. With touch button remote control, the shade can be extended when required, either fully or partially, and then folded back. The system is even fitted with an optional wind sensor, which will retract the shade if the wind picks up and staff or patrons are not availabe to retract the shade manually.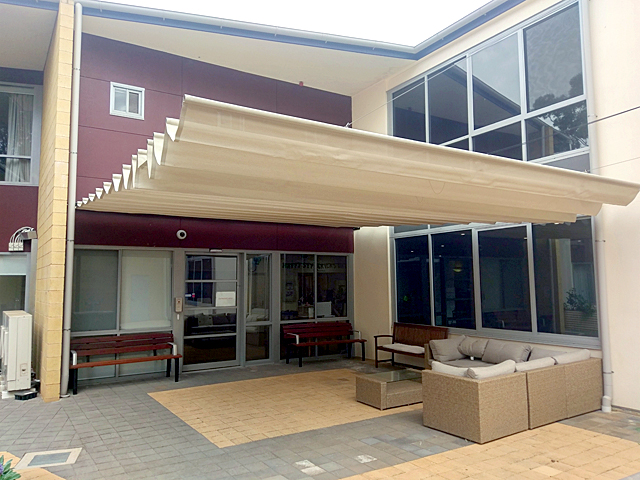 Resthaven, Mitcham
Shadeform have provided a number of shade and all-weather solutions to aged care facilities - with the Shaderunner® being particularly popular - in addition to shade sails and all-weather structural umbrellas.
In another project that Shadeform recently completed, the team worked with CED Building Design to supply and install a series of Cantilevered Flexshade Umbrellas for the multi-award-winning Living Choice aged facility at Fullarton, SA.
Living Choice, Fullarton
The Flexshade range of structural umbrellas provide the ultimate standard in high-wind rated all-weather protection. Flexshade umbrellas and membrane structures are rigorously designed and meticulously manufactured to create a stunning and eye-catching structure, requiring absolute minimal maintenance.
ECH, Fullarton
Shadeform are also known for their supply of waterproof umbrellas, which are becoming increasingly popular at aged care facilities. ECH group engaged Shadeform to provide two cantilevered umbrellas at their Fullarton and Rosslyn Park sites. These all-weather umbrellas allow for residents and their guests to use the outdoor spaces in any weather, enabling patrons to fully enjoy their surroundings and an outdoor lifestyle.
ECH, Rosslyn Park
Why not contact Shadeform today for advice on your next shading project?
SEARCH
SUBSCRIBE TO ENEWS
MORE NEWS
A CLEANER MESH SOLUTION
EXTREME 32: THE ULTIMATE SHADE SOLUTION
YEAR-ROUND WATERPROOF SHADE SOLUTION
THE IMPORTANCE OF SHADE STRUCTURES
CHEERS TO WATERPROOF SHADERUNNER® SYSTEMS
IT HAS TO BE BLISS