6 OPTIONS FOR YOUR NEXT SANDSTONE RETAINING WALL PROJECT
01 Oct 2020
Get inspired for your next landscaping project with Gosford Quarries' variety of affordable sandstone retaining wall solutions.
Sandstone retaining walls, often referred to as 'solid block walling', are a common feature of civil and residential landscaping projects. However, many do not realise that dimension-cut large sandstone blocks can also be used for the foundations of contemporary sandstone houses and buildings. Retaining walls, therefore, cross between residential, commercial and civil in their application and purpose in architectural projects.
There are also sandstone restoration projects featuring traditional bullnose, sparrow pecked and rockfaced sandstone retaining walls that often adorn the entrances to terrace homes and heritage buildings.
Imaginative architectural designs can create bespoke, unique foundation stones and sandstone retaining walls of various types, as Gosford Quarries' sandstone is 100 percent customisable in size, dimension, colour, texture and finish.
Gosford Quarries has a variety of retaining wall solutions for any project. Retaining walls utilising a 'wall block system' are popular choices for landscaping projects due to an easier installation. There is often a misconception about the affordability of solid walling options, particularly in sandstone. However, Gosford Quarries has a range of economical walling products that not only fit into a project's budget yet also will stand the test of time.
Gosford Quarries offers unique options for sandstone retaining walls and solid block walling, including:
Sandstone logs (or Landscaping Logs/blocks as they are also known)
Sandstone billets
Sandstone solid walling blocks
Solid sandstone ballast
Large sandstone 'random rock' boulders
Custom dimension cut sandstone blocks
How to Choose the Right Retaining Wall Material
Why Use Natural Sandstone for Your Next Retaining Wall Project?
With a range of sizes, finishes and colours, there is a sandstone walling block for every project budget supplied by Gosford Quarries Sandstone.
Here is an overview of each below.
Sandstone Logs, Sandstone Billets and Sandstone Ballast for Solid Block Walling
In terms of residential, civil and commercial use on larger landscaping projects by architects, sandstone logs, sandstone billets and sandstone ballasts are often utilised as sandstone retaining walls.
A Visual Explainer to Identify Stock Item Standard Sandstone Retaining Wall Blocks
The above image is located at Gosford Quarries' stockyard in Terrey Hills:
Back left | Gosford Quarries Sandstone Logs (1000mm x 500mm x 500mm and 2000mm x 500mm x 500mm large Quarry Sawn and split (budget-friendly solid retailing walling blocks directly from the quarry with no colour selection and a +/- Tolerance of 100mm in dimension)
Back right | Gosford Quarries Sandstone Quarry Billets (1000mm x 300mm x 300mm Quarry Sawn and split

Note: This is a smaller version of the landscaping logs, popular in residential applications and a +/- Tolerance of 50mm in dimension. All direct quarry materials are non-selective in colour which means there is a beautiful natural variation that makes each project unique)

Front on Pallets | Gosford Quarries' Solid Walling Blocks – Hydrasplit front and back Diamond Sawn top, bottom and edges

Note: The beautiful and practical smooth (sawn) finish highlighting the sandstone's banding. This material is sturdy, easy to stack and install and visually appealing for any project!
Using Landscaping Sandstone Logs For Sandstone Retaining Walls
NSW Golf Club Coastal Walk featuring Gosford Quarries landscape sandstone logs
Solid sandstone landscaping logs, i.e. 'combining blocks' are referred to as solid walling blocks in the industry.
Architects can use Australian sandstone logs supplied by Gosford Quarries in an array of architectural applications in landscaping design projects, primarily in retaining walls. They are perfect for garden edging, landscaping borders as estate walls and even for civil projects as marine sea sandstone retaining walls. They can also be used as sandstone steps, fashioned into seating features or used as garden edging for landscapes.
Landscaping logs are supplied across residential, commercial and civil and public/government contracts. Generally, sandstone logs are non-selective in size and colour and are direct quarry sandstone rocks. They are not perfect as opposed to solid walling blocks, which are custom-cut and feature calibrated heights, being dimension-cut at specifications from the architect.
Sandstone landscaping logs from Gosford Quarries feature 1000mm x 500mm x 500mm and 2000mm x 500mm x 500mm sandstone logs.
These sandstone logs are incredibly popular for civil landscaping projects by councils, often utilised in sandstone retaining walls for large sea walls and river embankment areas. These 'logs' are hardy and durable as they are of native Australian sandstone, perfect for our climate and environment.
Gosford Quarries landscaping logs for seawall Morrison River Park
You will often hear these described as 'large rocks for retaining walls'. These sandstone blocks are commonly utilised in freshwater and marine architectural projects of a civil nature.
Sandstone logs are low maintenance and suit budgets constraints. They look fantastic and are a practical solution for sloping hill areas deployed as tiered walling.
As sandstone has such attractive colours and textures, these logs are also good choices for landscaping feature walls, sub-divisional retaining walls and boundary fences executing a striking appeal in exterior areas. They are also a traditionally cheaper solution than concrete blocks and have a far more natural and beautiful appeal when using natural sandstone as a retaining wall material.
Landscape sandstone logs, 1m and 2m retaining wall, riverwall
Ease of installation makes sandstone logs a friendly choice for budgeting concerns, reducing labour costs thanks to their timely execution. Due to their lengths, sandstone logs are great choices to cover large areas of walling in tighter time frames, allowing project streamlining when chosen as a retaining wall material of choice.
Non-selective sandstone solid block walling such as landscaping logs and billets are rustic, they feature quarry blade marks and are economical for fast one-day sandstone retaining walls builds. In this respect, solid block sandstone walling is the landscaping rock for retaining walls. These have become extremely popular of late with the $25k housing grants and people renovating and improving the exterior of properties with new landscaping projects featuring sandstone.
Using Quarry Sandstone Billets for Sandstone Retaining Walls
Sandstone billets (often referred to in layman's terms as sandstone sleepers) are rough and quarry-sawn cut blocks similar to the landscaping logs and are an excellent choice for creating a rustic wall on a smaller scale. Sandstone billets feature 1mx300mmx300mm dimensions and are extracted and produced the same way as quarry logs. Gosford Quarries perform no further processing on these sandstone blocks; there are no adjustments to their sizes. They are supplied directly from the quarry to your project site.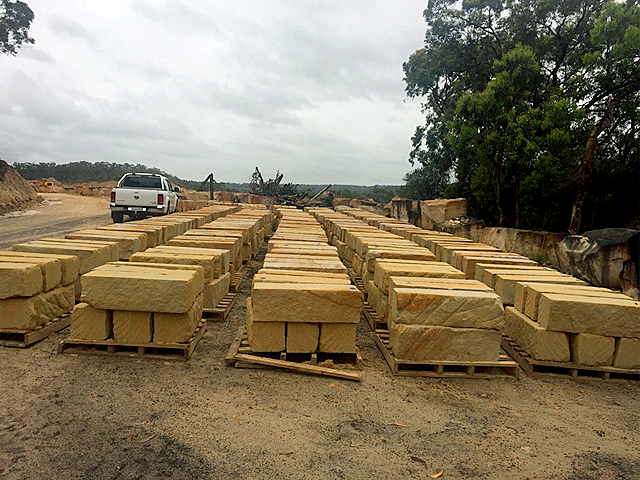 Gosford Quarries Sandstone Billets, 1000 x 300 x 300 billets
A 'rockfaced' sandstone finish can also be applied by an installer onsite to execute or 'replicate' the visual of convict-style blocks. Limited in their colour selection, these sandstone billets are beautiful, featuring the stunning banding and shades of brown, pink and white Australian sandstone colours. Gosford Quarries also have a rustic 'billet capping' (1000 (L) x 350 (W) x 150 (H)), which can complete the overall look and aesthetics of your retaining walls.
Gosford Quarries Sandstone Billets, Tiered Landscaping Retaining Wall
Use these rustic blocks primarily as retaining walls, again a budget-friendly option due to the ease of installation and set modular sizes of these blocks. Councils use these quarry products as layering in rural, bushland areas as well in civil projects.
Another imaginative use as an architectural highlight can be as landscaping garden dividers and even firepit seating, blending beautifully into their surroundings. A perfect native Australian stone, these sandstone blocks feature lovely variations in colour and hue, making them ideal as your landscaping garden stone.
Using 'Solid Walling Blocks' for Sandstone Retaining Walls
Commonly referred to as sandstone walling stone or retaining wall blocks, Gosford Quarries 'solid walling blocks' product is yet another budget-saver with the winning features of having a diamond-sawn top, bottom and edges, which distinguish it from its rustic quarry billet counterpart.
Gosford Quarries Sandstone, Solid Walling Blocks, 900-1200mm x 300mm x 300mm
These large sandstone landscaping blocks are split-faced front and back and diamond sawn. They feature lengths between 900-1200mm x 300mm wide x 300mm high. Solid walling blocks have calibrated heights, which make it an accurate and efficient product to build more precise residential walling. The diamond-sawn top also makes it a great seating option. The hydraulic split face provides a natural texture to the stone and although this product is typically non-select in colour, it is characterised by beautiful natural brown and pink banding, making it an iconically Australian choice.
Like sandstone logs and sandstone billets, sandstone retaining wall blocks can be installed in one to two days compared to Besser, or Bessa, block walls (hollow rectangular concrete blocks) that can take labourers up to two weeks or more for installation. Sandstone solid block walling is like a Lego block build, hence fast to construct yet sturdy and steadfast once complete.
Using Sandstone Retaining Walls as Landscaping Borders and Edging
Gosford Quarries solid walling blocks, sandstone seats, quarry run
Using Solid Ballast for Sandstone Retaining Walls
Holgate private residence, featuring Gosford Quarries brown sandstone colour range ballast walling
Sandstone ballast are rougher, quarry-cut blocks in random sized squarish block shapes commonly utilised as borders, edging or the construction of retaining walls. Solid ballast regularly features in civil and residential projects. Sandstone ballast walling is often referred to as 'ruble walling' or 'dry-stacked walling'.
Sandstone ballast is a popular rustic choice that is manageable by hand and can be manipulated and worked onsite by a stonemason or experienced installer to create a variety of 'dry stack' and 'random square' styles, typical of ballast walling. Solid ballast is available in a range of customisable colours which makes it an ideal choice for any project.
Retaining Walls Blocks for Patios and Landscaping Projects
Light-medium brown sandstone colour range, landscaping ballast walling
Using Large Sandstone Boulders for Retaining Walls
Commonly referred to as large landscaping rocks, large sandstone random rocks or sandstone boulders in layman terms, these natural sandstone rocks can range in size from small to significantly large in dimension. They can be up to a few tonnes per block in weight. They are another rustic choice for building walls and creating individual feature rock walling highlights.
Sandstone boulders are used for retaining solid in bushland, creeks and waterbeds, as embankment rocks by councils, defined as 'civil sandstone'. Sandstone boulders are laid to prevent runoff into the ocean and to decrease sediment loss in freshwater estuaries.
Large sandstone 'Random Rock' boulders for retaining wall, civil project
Architecturally, these boulders are widely used in rural retaining walls projects, civil project structural formations, and feature walls and structures. They are excellent for making a bold design statement in your landscaping project. Sandstone boulders can be used imaginatively by leading architects, taking advantage of their size and grandeur as a striking landscaping feature.
Dimension Cut, Bespoke Sandstone Solid Block Walling for Sandstone Retaining Walls and Architectural Projects
Dimension-cut solid block walling is also available from Gosford Quarries Sandstone. 100 percent customisable in thickness and height, colour and finish. Colour matching of sandstone can be performed onsite, and Gosford Quarries' dimension-cut sandstone blocks are perfect as a landscape retaining wall options, bringing more sophistication, eloquence and formality to a project.
Custom sandstone walling can also be used for the foundations of buildings as it can be cut to any size, colour and finish nominated by the Architect. This is particularly sought after in the heritage sectors where matching existing materials and styles is essential.
Formal finishes allow heritage and high-end contemporary finishes to be applied to architectural sandstone projects. However, the functionality, durability, beneficial properties and customisable nature of solid sandstone have made it a popular choice for new and old projects alike.
Buff colour range, sandstone restoration project, sparrow pecked sandstone walling with sawn margin
Light brown sandstone colour range, bullnose top walling with sparrow peck detail
Gosford Quarries supplies quarry-sawn, rustic looking blocks, as well as custom-cut sandstone blocks (known as dimension-cut sandstone) to any shape, height or width. Sandstone is a perfect material for any kind of retaining wall, feature walls, sub-divisional retaining walls, boundary fence or high visual impact feature walls.
Gosford Quarries medium brown random square rockfaced walling with sawn margin and sandstone steps
These customised dimension sandstone blocks are perfect for foundation and feature stair structures, seating areas, garden edging, small and large retaining walls and feature walls for contemporary sandstone houses and are available in a wide variety of colour ranges, finishes and styles. Custom finishes such as rockface, sparrow pecked, split and honed finishes can offer a more formal and structured appearance. Due to the customised nature of sandstone and the vast choice of colours, Architects, landscapers and homeowners alike make sandstone their first choice for retaining walls.
Light-medium brown sandstone colour range rockfaced walling and capping water feature
Gosford Quarries welcomes you to come and view its quality Australian sandstone products and to discuss your architectural imaginings with the expert team of advisors and specialists.
Each of Gosford Quarries' sales yards is stocked with quality dimension-cut sandstone capping, blocks, paving, cladding, garden edging, retaining blocks walls and so much more! The comprehensive range of dimension-cut sandstone is ideal for a wide variety of applications, including wall cladding and repairs, construction projects and specialty restoration work.
Gosford Quarries has showrooms across NSW, VIC and QLD, holding a cast range of stock items readily available for purchase. The company is Australia's leading sandstone supplies for premier architects and landscaping architects to design and build memorable, unique and bespoke landscaping designs.
Medium brown sawn sandstone, dimension solid seating, stepping and paving
Specifying Sandstone for Your Next Architectural Project
The sandstone experts at Gosford Quarries Sandstone can assist and support you in specifying any sandstone product to apply and match to the vision of your architectural design. Working closely with the team will ensure the integration of any unique and high-quality sandstone product you choose to apply with innovation and the individualistic ways you have imagined.
Dealing with Gosford Quarries brings peace of mind, knowing everything executed in your sandstone project has the right expert advice; a project that will withstand the test of time and remain a legacy to your creativity for many years to come.
Call Gosford Quarries today 02 8585 8282, or get in touch via the links below
SEARCH
SUBSCRIBE TO ENEWS
MORE NEWS
THE PERFECT STONE FIREPIT WITH GOSFORD QUARRIES' SANDSTONE
5 WAYS TO USE AUSTRALIAN SANDSTONE IN YOUR NEXT ARCHITECTURAL DESIGN PROJECT
RESTORING HISTORICAL ICONS
TELL A STORY WITH STONE
AUSTRALIAN SANDSTONE | THE IDEAL LANDSCAPING SOLUTION
GOSFORD QUARRIES | INNOVATION IN TECHNOLOGICAL DESIGN