WORLD'S TALLEST VERTICAL GARDEN
11 Dec 2013
Sri Lanka is set to house one of the world's tallest vertical gardens in what will be the first sustainable high-rise in the country.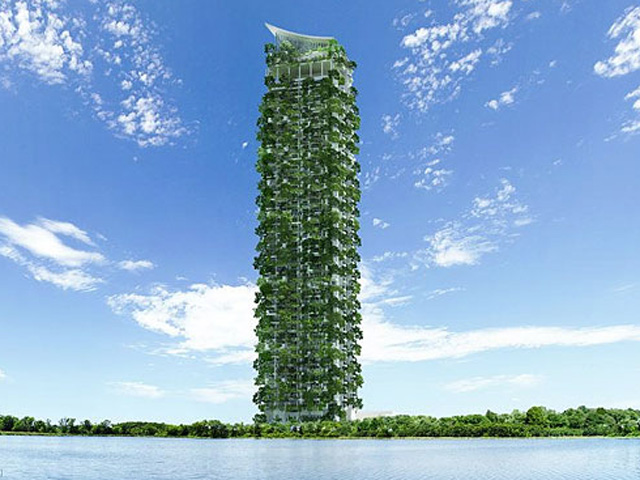 Designed by local architect Milroy Perera and his firm, together with Maga Engineering, the Clearpoint Residencies project will rise 46 floors and house 164 three- and four-bedroom apartments.
Clearpoint aims to set the benchmark for sustainable living with a design that will see each apartment have its own garden terrace so residents can immerse themselves in the 'advantages of ground floor living.'
The residential tower, which will cost six billion rupees to build, will rise in Kottle overlooking the tributaries of Diyawanna Lake and opposite the newly built Diyatha Uyana, a precinct offering entertainment, markets, food outlets and an aquarium.
"Ultimately, the aim is to create a living space where you can not only feel at one with the environment, but actively contribute towards safeguarding and sustainable use of its resources," explained Perera.
Slated for completion in 2016, the illustration shows the tower wrapped in vegetation. While the garden terraces will offer a striking aesthetic, they will also work to cool the building and provide shade while operating as a natural filter for apartment dust and for their acoustic benefits.
Each garden is self-sustaining and has an in-built automatic drip irrigation system which also delivers nutrients to the vegetation. The grey water will then be recycled and reused for irrigation and sanitation, with an aim to reduce water usage by 45 per cent. Rain water harvesting will also help nourish the gardens.
Along with its living tower focus, the project boasts an extensive list of green credentials, including solar panels to provide energy for lighting, elevators and the recycling systems such as the grey water system. The architects took a thermal approach when designing the structure, ensuring no apartment windows would be exposed to sunlight.
While the tower will be the tallest residential vertical garden in south Asia, some say it might actually be the tallest vertical garden in the world.
French artist and botanist Patrick Blanc, however, contends that Sydney's One Central Park residential development will hold the title upon completion. Blanc, who is behind the greenery of the two 150-metre Sydney towers, plans to include 21 panels and planter boxes covering 1,120 square metres, with 35,200 plants from 383 native and exotic species used in the design.
The use of vertical gardens in high rise buildings is growing globally. An increasing desire for urban dwellers to live and connect with nature without having to head to the ground floor has prompted the trend. There have been an abundance of impressive green architecture developments already completed including an array of projects in Singapore – a city renowned for 'urban greening'.
In recent years, the most prominent projects include WOHA's renowned projects, PARKROYAL on Pickering and the Newton Suites, along with the Solaris building.
The closest project the industry has seen to Clearpoint to date would be Bosco Verticale, a two tower (reaching 110 and 76 metres) residential project in Milan by architect architect Stefano Boeri.
"Bosco Verticale is a project for metropolitan reforestation that contributes to the regeneration of the environment and urban biodiversity without the implication of expanding the city," said Boeri of the project, which is nearing completion.
The building is set to be home to over 10,000 square metres of forest which will be made up of 21,000 plants and over 700 trees.
Projects like Bosco Verticale and the anticipated Clearpoint demonstrate that nature can indeed thrive in the urban landscape and can be implemented vertically should space be unavailable for natural sprawl.
Images (top to bottom): Clearpoint Residency; Clearpoint Exterior; One Central Park Sydney; and Bosco Verticale.
SEARCH
SUBSCRIBE TO ENEWS
MORE NEWS
SHADE TREES FOR FARMS AND PADDOCKS
WATERPROOFING MADE EASY
15-YEAR WARRANTY ON SHADE FABRIC
THE LANDSCAPE SHOW 2021
LOW-MAINTENANCE SEATING
COMPOSITE TIMBER DECKING