WORLD-CLASS WATER PARKS
16 Jun 2021
As the global leader in water ride design, technology and manufacturing, ProSlide's rides power the best and most successful water parks in the industry.
ProSlide are driven to create the world's best water ride experiences and deliver incredible value. The company accomplish this through relentless vision, a strong customer focus and commitment to design excellence. If it's world-class, it's ProSlide.
With five times more IAAPA Best New Water Ride Awards than all other companies combined, ProSlide is the only water ride company that introduces thrilling new innovations year after year. The company's new water rides and technology are transforming the water park industry globally with ground-breaking installations at Europa-Park's Rulantica, Soaky Mountain Waterpark, DreamWorks Water Park at American Dream, OCT Nanjing and Evergrande Ocean Flower.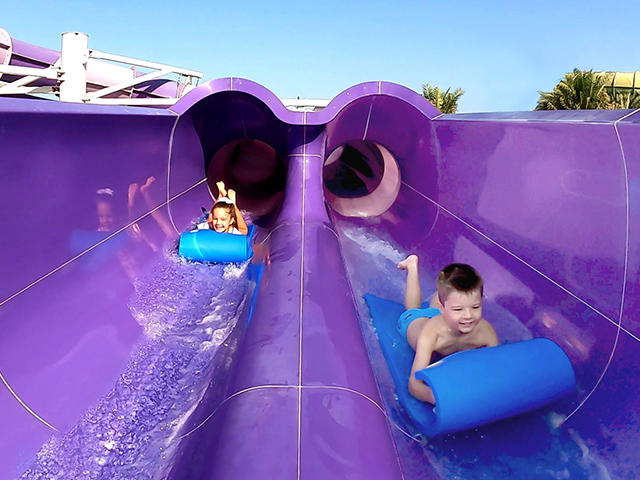 This past March, Atlantis Aquaventure officially opened the doors of one of the most highly anticipated water park expansions in history. Powered exclusively by ProSlide water rides, the Dubai-based water park relied on expert design and cutting-edge technology to fulfill their vision and set a new standard for water parks around the world. Among the many attractions that make up the industry leading ride mix is a new addition to ProSlide's WaterKINGDOM suite of family products: the KIDZ RallyRACER®.
ProSlide's KIDZ RallyRACER® brings the pinnacle of a competitive water racing experience to young riders for the first time ever. The exclusive design merges the excitement, speed and action of the original RallyRACER with the industry-leading design considerations present in ProSlide's KIDZ rides. A key aspect of the racer's competitive experience is its use of ProSlide's patented RallyPOINT® features that amplify the sense of competition. These portions of u-shaped flume with low divider walls appear during the ride and allow young riders to see and hear their competition as they race side-by-side.
ProSlide's WaterKINGDOM products all incorporate what the company calls a 'graduated ride experience.' Meaning they offer an intentionally unique experience that focuses on providing entertainment, while also promoting natural transitions from smaller rides to larger rides, like the KIDZ RallyRACER® to the original RallyRACER. This is aided by the fact that they share design inspiration and name, making it easier for riders to immediately understand the relation. Some parks even choose to design their kid's rides and adult rides in similar colors, making the connection that much more obvious. It provides water parks with a way to keep guests both entertained and captivated as they grow older. By designing ride experiences that cater to an age group's unique needs and expectations, ProSlide is working to foster lifelong water park experiences.
SEARCH
SUBSCRIBE TO ENEWS
MORE NEWS
PLAY AND FITNESS EQUIPMENT YOU CAN TRUST
NATIVE PLAY
BOAT-THEMED PLAYGROUND BY THE RIVER
NATURAL TIMBER PLAY STRUCTURES
RICHTER PLAYSPACE ARRIVES IN TASMANIA
360-DEGREE NETTED TERRAIN PLAYSPACE