WATERFRONT PARK UNVEILS GREENSPACES FOR SLOVENIA
18 Apr 2019
The new Koper Park in the Slovenian port city of Koper uses organically designed urban elements to create a stunning waterfront promenade and greenspace that seamlessly blends into the surrounding urban environment.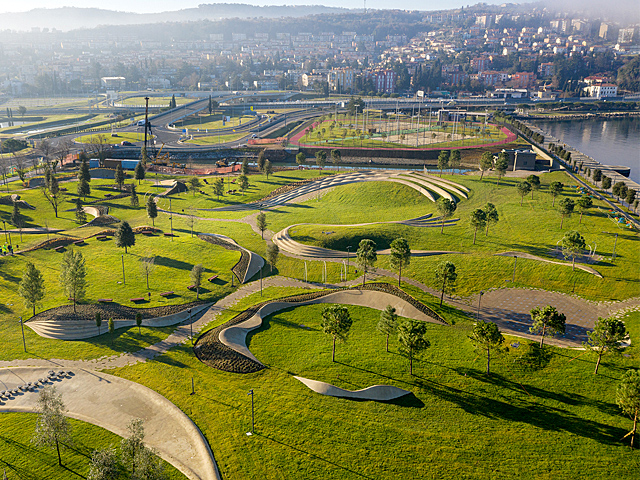 Enota, an architecture practice based in Ljubljana, has completed the design of a new urban park in the Slovenian port city of Koper. The 26,000-square-metre park has been designed to unite its immediate surroundings, which include a waterfront promenade and a part of the town undergoing significant redevelopment. The comprehensive overhaul of the site seeks to visually and functionally connect these two separate parts of the town into a logical whole.
Since Koper's densely developed old town does not allow for a sufficient number of large open areas, Enota's design provides increased outdoor recreational space for the city and its citizens.
"The new intervention offers a uniform and attractive appearance, and with its intensive hinterland greenery, it drowns the heterogeneity of the surrounding built structures," explained the design team.
The basic building blocks of the new city park have been conceived as monolithic and undulating urban elements. Their controlled placement, in combination with the park's topography, softly divides the site into individual islands. The design of the individual urban elements consistently follows the different program. In places, these built interventions are taller and act as a shelter from views and noisy surroundings. Elsewhere, they are lower and allow for unimpeded contact between different areas.
The organically designed urban elements form stands for viewers, an obstacle course for children, climbing walls, a backdrop to a seaside bar, a concert venue, a children's playground, a reading area, and more.
Due to the proximity of the sea, the program zones are appointed with numerous water elements. A pond, ground sprinklers, a geyser, parabolic water jets, cascades and a water platform encourage active use of the space and the expansion of a potential future beach towards the interior of the park.
Via Designboom | Images © Miran Kambič
SEARCH
SUBSCRIBE TO ENEWS
MORE NEWS
FROM CINEMA TO SKYSCRAPER
CENTRAL PLACE SYDNEY
EVERLASTING FOREST
$2.7 BILLION CONSTRUCTION BOOST FOR VICTORIA
THE SHOW WILL GO ON
DESERT ROSE