WANT OPTIMUM WATER QUALITY? YOU NEED A POND SKIMMER
03 May 2017
Aquascape Supplies Australia understand that maintaining the optimum level of water quality for your ponds and water features requires premium quality pond skimmers.
To ensure that your water feature is performing at its peak and remains a healthy, beautiful ecosystem for any aqualife, you need to ensure that debris does not become waterlogged and sink to the bottom of the source. While many water features and ponds function adequately without a skimmer, common issues surrounding invasive maintenance and debris becoming clogged in pumps, often results in a subpar performance for commercial water features especially.
Skimmers are designed to improve water quality and reduce maintenance by removing debris before it sinks to the bottom of the pond and the team at Aquascape Supplies Australia have a range of options to suit any commercial or residential project.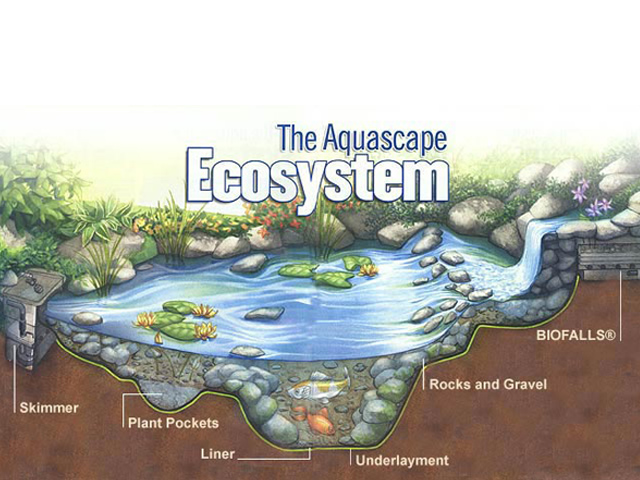 An appropriately sized skimmer also works as a pre-filter removing debris before it gets to the pump helping reduce pond and pump maintenance and also allows for quick and easy access to the pump. Once you have a pond with a skimmer you'll be left wondering how you ever got by without one before.
Consisting of a tough and durable roto-moulded plastic they carry a limited lifetime warranty. There are three convenient sizes with flow rates up to 37850 litres per hour available to suit most ponds and other alternatives for larger bodies of water are available by design.
Features found on the Signature Series™ 400 & 1000 Skimmers: (Numbered image above)
Natural looking faux-rock lid | Grooves designed into lid provide space for gravel or mulch. The skimmers can be incorporated into the design of the area for a neater project finish.
Patented adjustable faceplate | Have you ever messed up your transit measurement when setting your pond's water level? Forget about it! Four inches of travel enable you to tweak out the perfect water level (Signature Series™ 1000 only)
Easy maintenance | Aquascape Supplies are making it as easy as possible for the pond owner to maintain their filter with a large-volume, rigid debris basket (Signature Series™ 400 & 1000)
Injection moulded fittings | Check valve threads into skimmer wall providing a professional watertight seal along the back of the filter
Corrosion-resistant non-cross-threading hardware stands up to the elements
Filter mat removes smaller sediment and debris
Rounded shape provides maximum strength
A closer look at the features of the Signature Series™ 400 & 1000 Skimmers can be found in the video below.
Models available from Aquascape Supplies Australia include:
Signature Series™ 200 Pond Skimmer | Dimensions: 51cm L x 44.5cm W x 44.5 H | Pond Size: up to 18.5m2 (200 sq.ft.) | Pump Flow Rate: up to 3000 GPH / 11,360 LPH
Signature Series™ 400 Pond Skimmer |Dimensions: 54.5cm L x 45.5cm W x 53cm H | Pond Size: up to 37m2 (400 sq. ft.) | Pump Flow Rate: up to 4000 GPH / 15,140 LPH
Signature Series™ 1000 | Dimensions: 53cm L x 55.5cm W x 67cm H | Pond Size: up to 92m2 (1000 sq. ft.) | Pump Flow Rate: up to 10,000 GPH* / 37,850 LPH
For more information on how to design and maintain water features within your next project, get in touch with the team at Aquascape Supplies today by calling 07 5446 7963 or visit their website at www.aquascapesupplies.com.au
SEARCH
SUBSCRIBE TO ENEWS
MORE NEWS