VISUALISING LANDSCAPES IN 3D
05 Aug 2021
CAD International provides rendering software to make it easier than ever to convey design intent to clients.
Even if you produce the most wonderful drawings using the world's best landscape design tools, some clients often struggle to interpret those drawings into the 3D world within their minds.
This gap in what you can see versus what they can see can sometimes cause friction, even if it isn't apparent. Expectations in your clients' mind may be far in excess of your actual design and their budget or far less than you intend to provide and charge them for. Either way, there is a void and misunderstanding.
What if?
What if you could provide a clear and engaging 3D communication that immersed your client emotionally and mentally in the design and allowed them to simply see what you'll be providing for them without interpretation? Fees would be easily justified and their expectations better managed.
Just a Game
Until recently, being able to produce meaningful 3D immersive content for clients was difficult and required a long learning curve, but that has now changed.
Using software originally designed for producing computer games, designers can simply drag and drop content from a library into a 3D scene that is pre-set to show different lighting, times of day, weather, water effects, planting, growth, wind, sunshine and more.
Within minutes, your model is alive with the full atmosphere of your design intent. Rain drops on the windows, moss on the pavers, vines on the walls, people passing by, trees blowing in the wind and birds flying overhead. Everything you need to convince your client of the beauty and effectiveness of the space you have created in your mind.
Three Simple Steps
To get to this level of communication, there are only three steps:
First, is to complete your design work in 2D just as you normally would with your chosen CAD software.
Then, use the same CAD software or something as simple as SketchUp to generate 3D buildings and hardscapes.
Finally, you link your 3D model to the 'rendering reality' software where you'll push and pull your terrain into shape, drop your plants and other soft scaping into the scene, paint surfaces with materials, and set your cameras and effects.
Two Choices
There are two program choices to execute your vision. Lumion is the leading visualisation software on the planet, rendering reality with the largest library and the most advanced rendering abilities, or you can do it a little more crudely on a very low budget with ARCHLine Live. Either way, you'll love how these programs can engage your clients and have them sign-off on your designs or proposal.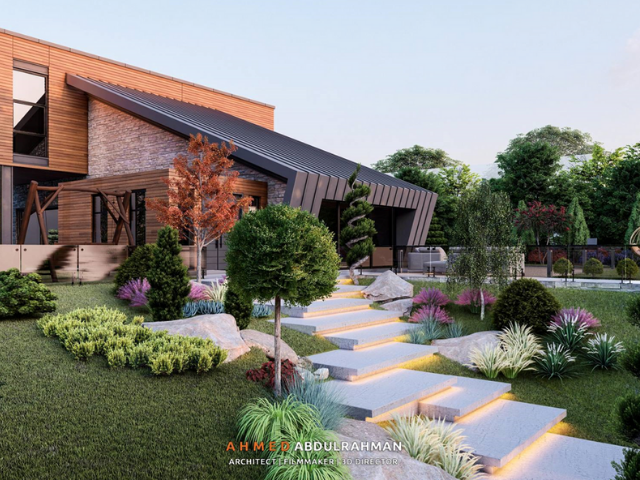 Staying ahead of the technology curve without having to be a computer whiz is a plus, but you'll need a fast computer running Windows to get this type of software to work for you.
What Next?
Contact CAD International to trial their software or to get the fastest CAD-Laptops on the market.
To find out more click here: lumion.com.au
SEARCH
SUBSCRIBE TO ENEWS
MORE NEWS
HUSQVARNA CHAMPION OF CHAMPIONS: AUSTRALIAN LANDSCAPER OF THE YEAR
MULTI-DIMENSIONAL DESIGN
DRAFT MASTER PLAN REVEALED FOR WESTLEIGH PARK
NGV 2021 ARCHITECTURE COMMISSION WINNER
CENTRAL PARK VISION FOR MIDTOWN MACPARK
THREE MILLION TREES BY 2030