UNIVERSITY DIGS GO GREEN
01 Oct 2012
A student residential development at Monash University is the first multi unit residential project in Australia to achieve a Green Star rating for sustainable construction.
A student residential development at Monash University is the first multi unit residential project in Australia to achieve a Green Star rating for sustainable construction.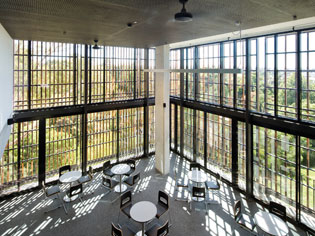 The Briggs and Jackomos residences have achieved a Green Star – Multi Unit Residential As Built v1 rating. The residences offer students low-cost housing funded through the National Rental and Affordability Scheme, and are the first Australian university residences to do so.
Romilly Madew, Chief Executive of the Green Building Council of Australia, says that the rating is an outstanding achievement.
"To achieve a Green Star 'Design' rating requires a commitment to innovation and a holistic approach to sustainable building. Achieving an 'As Built' rating means actually implementing those plans and realising that vision – a challenge that the project team at Monash University has met very successfully," Ms Madew says.
"Monash University has also demonstrated that sustainability is something that can be affordable and achievable, even on a modest budget. We congratulate the visionary team at Monash University for demonstrating that sustainable outcomes are compatible with affordable housing," Ms Madew says.
Designed in conjunction with BVN Architecture, the site comprises two five-storey buildings, each housing 300 students.
Sustainable features on the project include a greywater treatment facility, as well as a 150,000 litre water storage facility which blends greywater and rainwater. Productive garden beds and orchards enable the students to harvest their own food. A 153kw photovoltaic system is the largest residential solar installation in Australia. The project team also ensured that environmental impacts were minimised through modularising and prefabricating where possible, and by sourcing environmentally sustainable materials.
According to Brett Walters, Monash University's Manager of Environmental Sustainability, the university has demonstrated a commitment to achieving Green Star – As Built ratings for new developments. "There is no doubt that both building performance and university reputation will be enhanced by this commitment," he says.
Monash University has two new laboratory buildings in the design or construction phase, and is seeking Green Star Design and As Built ratings for both.
For Emmanuelle Delomenede, ESD consultant at Norman Disney & Young, the unique challenges of this project provide a benchmark for future projects. "The main challenge was applying the 5 Star Green Star benchmarks in the early stages of development to a student accommodation facility where environmental design was paramount.
Incorporating innovative solutions, such as trickle ventilators to increase the provision of outside air to the dwellings, was an important factor in achieving a synergy between a Green Star rating and affordable housing."
"The Briggs and Jackomos residences showcase the application of modern sustainable design principles on a significant scale, and in a relatively low-cost design and build project, delivered ahead of schedule and budget. We are proud to set a new standard for sustainable student housing in Australia," Mr Walters concludes.
The project has already received a number of awards, including the Victorian Architecture Award for Multiple Housing 2012 and a Royal Institute of British Architects 2012 International Award.
The Green Building Council of Australia (GBCA) is Australia's leading authority on green buildings and communities. The GBCA was established in 2002 to develop a sustainable property industry in Australia and drive the adoption of green building practices. The GBCA has 850 member companies who work together to support the Council and its activities. The GBCA promotes green building programs, technologies, design practices and processes, and operates Australia's only national voluntary comprehensive environmental rating system for buildings - Green Star. See: www.gbca.org.au
SEARCH
SUBSCRIBE TO ENEWS
MORE NEWS
DURABLE AUSTRALIAN PLAY EQUIPMENT
A SUSTAINABLE CHOICE
PERFECT FOR URBAN PLANTING
KLIX – THE FUTURE OF RECREATION EQUIPMENT
CLASSIC HYDRASPLIT BLOCKS
INTRODUCING ROLL&COMB