TREE-INSPIRED TOWER
12 Mar 2014
A nature-inspired tower sprouts balconies like leaves in what will be the second 'Architectural Folie of the 21st Century' for France.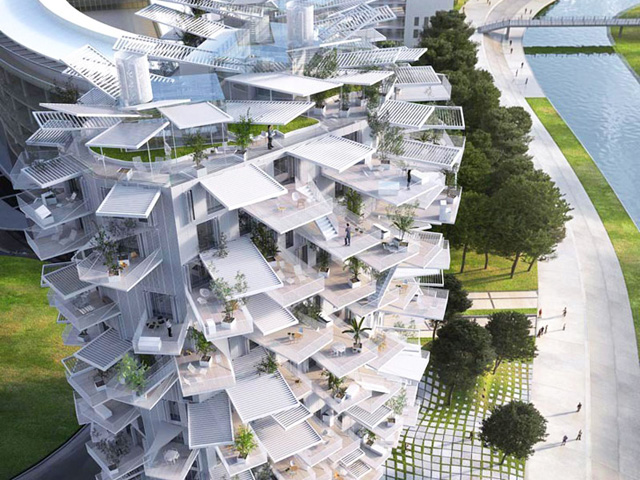 Japanese architect Sou Fujimoto has unveiled plans for a tower block shaped like a pine cone with balconies sprouting outwards in all directions.
The 17-storey mixed-use tower in Montpellier, France will accommodate residential units, office space, an art gallery, restaurant and a panoramic bar.
As a cross-cultural endeavour, the project aims to represent a contemporary Montpellier through an integration of Japanese and Mediterranean styles.
The structure is strategically located between the city centre and the newly developed districts of Port Marianne and Odysseum, midway between the old and new districts of the town.
Named the 'White Tree', or 'Arbre Blanc', the 10,000 square metre structure grows organically out of the ground, with a natural form that appears to have been sculpted over time. The project's various branches also provide selected areas of shade for adjacent properties. Each of the high-rise's residents will select a preferred floor plan from a list of possible layouts, encouraging 'free choice architecture' with a series of modular spaces.
Dominating the skyline, the building features dense yet permeable peripheries where divisions between internal and external space are blurred. Influenced by the city's fondness for outdoor living, balconies gravitate toward the exterior, like leaves fanning out to absorb sunlight. A generous provision of vegetation sees hanging gardens, plants and trees positioned throughout the residential units, imagined as a vertical garden.
The tower devises passive strategies throughout its design in order to ensure a comfortable and liveable environment that feeds off locally available resources.
Offering a diverse range of programs, the tower welcomes Montpellier's residents and visitors with a ground floor restaurant and art gallery and a penthouse bar that provides panoramic views across the ocean and neighbouring mountain range.
Construction of Arbre Blanc is scheduled for July 2015 and expected to be completed by December 2017.
SEARCH
SUBSCRIBE TO ENEWS
MORE NEWS
SYDNEY'S NATURAL STONE SPECIALISTS
CENTRAL PARK VISION FOR MIDTOWN MACPARK
NATURE-BASED PLAY
CREATING TIMBER ALTERNATIVES
LANEWAYS REVITALISATION PLAN
PARK WARRIOR COURSES ARE SPRINGING UP ACROSS AUSTRALIA!