TOP HONOURS FROM AILA
13 Dec 2017
From a field of eight future visionaries of the profession, the Australian Institute of Landscape Architects (AILA) recently announced Daniel Jones as the winner of this year's prestigious Karl Langer Award.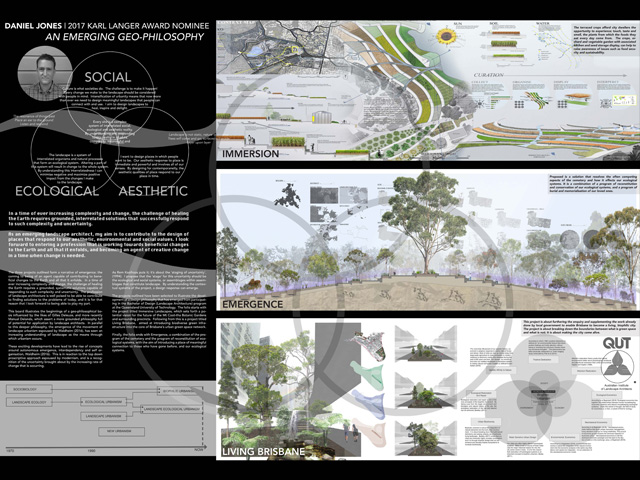 Submission by award winner Daniel Jones
The Karl Langer Award is presented to a fourth-year Queensland University of Technology (QUT) Bachelor of Design (Landscape Architecture) student who demonstrates the aptitude to make significant contributions to the profession in the future.
First awarded in 1972, the annual Karl Langer Award is the highest honour awarded to a graduate of landscape architecture by AILA in Queensland.
Daniel Jones' winning concept included three projects that focused on contributing to the design of places that respond to our aesthetic, environmental and social values. Mr Jones' design philosophy embraces the challenge of healing the Earth through grounded, interrelated solutions that successfully respond to uncertainty and complexity.
"As an emerging landscape architect, I look forward to entering a profession that is working towards beneficial changes to the Earth and all that it enfolds, and becoming an agent of creative change in a time when change is needed," Mr Jones said.
"The profession of landscape architecture is well poised to be able to contribute to finding solutions to the problems of today, and it is for that reason that I look forward to being able to play my part".
Submission by nominee Andrew Ashton
Andrew Green, previous Karl Langer Award winner and Award Panel Chair said the jury was impressed by all three of Jones' projects, which clearly demonstrated understanding, creativity and technical strength, and his drive to design places where people want to be.
Mr Jones' presentation to the jury focused on three projects:
Immersive Landscapes, Mt Cootha Botanic Gardens | Exploring the importance of contact with nature and setting forth a potential vision for the future of the gardens and surrounding precincts.
Living Brisbane, Brisbane CBD | A project introducing methodologies surrounding landscape and biophyllic urbanism and introducing biodiverse green infrastructure to create an emergent forest linking the Queen Street Mall to the City Botanic Gardens.
Emergence | A landscape of burial and memorial that emerges from both its continuum and the increased value being placed on ecological systems. This project, like his other projects, underpinned his personal philosophy around healing the earth using grounded, interrelated solutions that respond to the complexity and uncertainty of our time.
"Daniel is already making a difference in his current role at Brisbane City Council and will no doubt make a significant contribution to the profession of landscape architecture in Australia," claims Mr Green.
Submission by nominee Stephen Niven
The finalists were nominated by their lecturers at the QUT for academic excellence and then assessed by an AILA jury panel upon presenting a portfolio of their work. Nominees were judged on design skills, technical skills, presentation skills, their commitment to and aptitude for the profession, and the existence of a sustaining philosophy demonstrated in their work over their university degree.
Submission by nominee Tho Pham
SEARCH
SUBSCRIBE TO ENEWS
MORE NEWS
LOCAL INFRASTRUCTURE GETS BUDGET BOOST
2020 PLA NATIONAL VIRTUAL CONFERENCE
AILA 2020 NATIONAL AWARDS
THE LANDSCAPE SHOW 2020
AUSTRALIAN PARKS & LEISURE JOURNAL AUTUMN EDITION. GET IT NOW
SPRING HAS SPRUNG! GET YOUR COPY OF THE AUSTRALIAN PARKS & LEISURE JOURNAL SPRING EDITION