THE IKEA OF THE FUTURE
30 Jan 2020
Addressing global climate concerns, IKEA's newest store in Vienna, Austria, utilises innovative design concepts to create a sustainable, car-free complex covered in green facades.
IKEA's newest store will cater to the changes in customer and mobility behaviours and will only be reachable by public transport. Designed by Querkraft Architekten, a Vienna-based architectural company, the four facades and the roof terrace of the shopping centre will be green.
The interior display and presentation will feature innovative new design choices.
Creating a meeting place in the dense city centre, the store is located at the end of Mariahilferstrasse, the main shopping street. With consumer behaviours focusing more on e-commerce, IKEA is also promoting online ordering possibilities.
A 20-minute walk from every end of the two metro lines beneath the building, IKEA Vienna Westbahnhof is serving the mobility patterns of the people living in the area. The building will host an IKEA store on the first four levels, with four shops along Mariahilferstraße to create an active shopping street, a hostel on the upper two floors and a publicly accessible roof garden.
Green with a concept based on a grid, the IKEA store will become a landmark. The transparency in the architecture generates a welcoming aspect, in addition to offering display opportunities. Aiming to get a BREEAM Excellent certification for the building, 160 trees on the building will lower temperatures by at least two degrees, making the surroundings significantly greener and more enjoyable.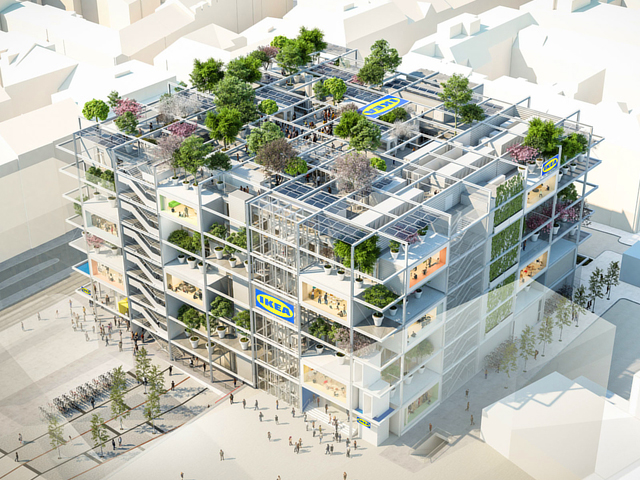 Via ArchDaily | Images © ZoomVP/Querkraft Architekten
SEARCH
SUBSCRIBE TO ENEWS
MORE NEWS
REIMAGINING BROOKLYN BRIDGE
AUSTRALIA'S NEWEST CBD BUILDS UP
BELFAST WATERSIDE DEVELOPMENT APPROVED
NORTH SYDNEY POOL GETS AN OLYMPIC UPGRADE
THE '20-MINUTE NEIGHBOURHOOD'
SYDNEY ANNOUNCES PEOPLE-FRIENDLY CITY CENTRE