SUSTAINABILITY IN THE SKY
31 Mar 2022
Melbourne is set to open its first Skyfarm, a sustainable oasis filled with a thriving plantation, an onsite cafe, education hubs and three event spaces that transform a multistorey carpark into a sky high Eden.
Due for completion in late 2022 and over the next nine months, the orchard and plant nursery sector will be open to the public. A haven sitting peacefully on top of a multistorey carpark in the Seafarer's precinct is Melbourne's Skyfarm. The team bringing Skyfarm to life is Odonata, Biofilta and The Sustainable Landscape Company.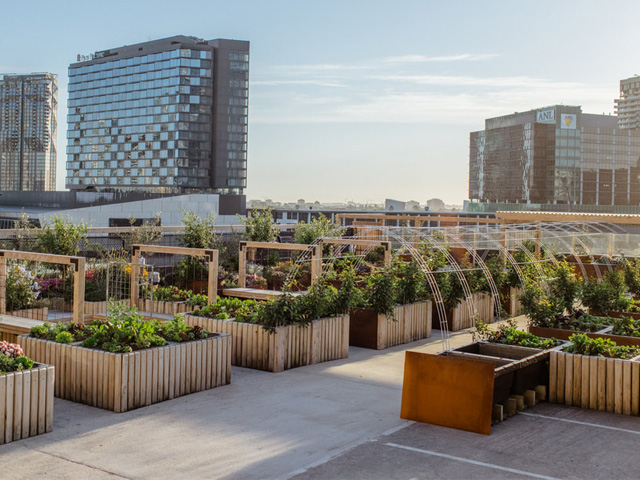 The 2,000 square metre rooftop will be home to an onsite café, education hub and three event spaces. The produce grown at Skyfarm is built on the advanced self-watering bed farming system from Biofilta. Estimations of over five tonnes of fresh produce every year will be grown onsite. You might be wondering where all this food will go? Plans for majority of the produce to be donated to the food charity OzHarvest and the rest to be used in onsite kitchens and café, the Melbourne Skyfarm will be helping a lot of people get good food in their belly's.
The urban farm will be home to an educational centre that will educate city goers on sustainable practices such urban biodiversity, zero-waste living and renewable energy. The lush greenery and timber accents will be a slice of heaven in the bustling Melbourne CBD. With 360-degree views of Melbourne looking over the Yarra, city goers will be happy to have a place to relax right on a rooftop.
To find out more on Melbourne Skyfarm and its progress to completion, click the link HERE
Images via Melbourne Skyfarm
SEARCH
SUBSCRIBE TO ENEWS
MORE NEWS
WINNERS OF THE 2022 LANDSCAPE ARCHITECTURE AWARDS IN QUEENSLAND
LEARN, CONNECT AND GROW YOUR BUSINESS AT THE LANDSCAPE SHOW
WINNERS OF THE 2022 LANDSCAPE ARCHITECTURE AWARDS IN WESTERN AUSTRALIA
GRAB YOUR FREE TICKET TO THE LANDSCAPE SHOW
CELEBRATING THE BEST NSW LANDSCAPES
WINNERS OF THE 2022 LANDSCAPE ARCHITECTURE AWARDS IN VICTORIA