STAND-OUT EDGING SOLUTION
20 Jul 2016
Make garden designs stand out from the crowd with a complete steel edging solution that offers a range of metal finishes and a flexibility that allows you to create shapes and curves in just about any form.
When you first think of stunning outdoor areas, an assortment of plants, pavers and fancy pools might come to mind, but garden edging is rarely at the top of the list. You will be surprised to know just how far clean borders and raised garden beds can set a landscape design above the standard.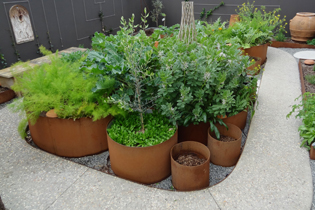 FormBoss™ Metal Garden Edging has been supplying designers, landscapers and weekend DIY'ers all over Australia for close to 10 years. The unique edging system is essentially a plate steel with a rolled top lip, but what sets FormBoss™ apart is the fact that you can produce dead straight lines, curves or even garden beds onsite with unprecedented ease and little to no experience. Having the rolled top lip makes the edging completely safe, as well as allowing you to create seamless connections. The system is also anchor into the ground with all of the fixings being completely concealed!
Greenlines Gardenware® manufacture FormBoss™ garden edging inhouse and can supply small or large quantities with a quick turnaround. Available in a range of profile heights, gauges and finishes, this system can cater to every edging application. Structurally guaranteed for a 10 year period, FormBoss™ metal edging is surprisingly economic.
Over the years FormBoss™ has been utilised by many leading designers, including Phillip Johnson – "Best In Show" at Chelsea Flower and Garden Show in England. This flexible and attractive edging system has also been incorporated into many award winning displays at the Melbourne Flower and Garden Show over the years.
Check out the FormBoss™ website to find inspiration in their attractive galleries.
Images (top to bottom): Finesse Garden Services MIFGS 2013; Formboss™ makes circular forms with ease; Green Earth Enterprises; Formboss™ flexibility allows for borders flush to the ground or elevated beds; Melbourne University.
SEARCH
SUBSCRIBE TO ENEWS
MORE NEWS
MELBOURNE TAKES STEPS TO GREEN THE CITY
ASIA'S LARGEST URBAN ROOFTOP FARM
PLANT BREEDING AND CONTEMPORARY AUSTRALIAN GARDEN DESIGN
CLIMATE CHANGE EXTREMES CANCEL OUT BENEFITS FROM TREES
VERTICAL URBAN FARM GROWS ON THE STREETS
GREENING THE CITY