SPORTS CAMPUS OF FUTURISTIC PROPORTIONS
04 Oct 2018
Abandoning traditional construction practices to focus on building around the natural landscape, the Quzhou Sports Campus in China is set to be a futuristic marvel. The 700,00 square metre campus will feature sweeping hills and lakes that create an ethereal landscape, which aims to embrace the rich history and culture of Quzhou and seamlessly combine sports and nature with a range of public space facilities.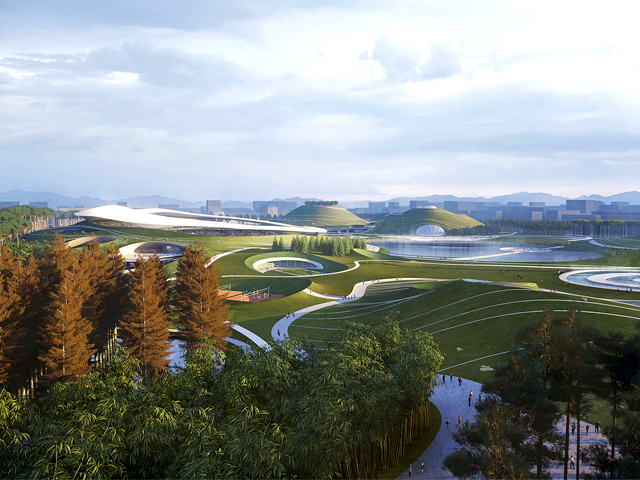 The Quzhou Sports Campus, developed and constructed by MAD Architects, will feature many facilities, including a 30,000-seat stadium, an outdoor sports venue, a gymnasium, a national sports complex, a science and technology museum, hotels, retail precincts and a youth centre. the design emphasises spirituality "Like a mirage that has the potential to become a place of spiritual belonging for the future of the city," according to Ma Yansong, founder of MAD Architects.
A key component of the campus is the idea of public space, which is captured with the rolling green terrain that encourages visitors to traverse across in order to access the complexes. Hills on the northeast side of the campus cover a gymnasium and training centre and feature public spaces that encourage visitors to engage with the natural landscape. A large stadium will sit in the centre of the campus that will be covered by transparent 'halo', which creates a metaphor for visitors to engage in a dialogue between the earth and sky.
The campus is a revolution in the world of urban construction as it chooses to focus on the natural landscape as the centrepiece of the design, instead of on construction. Green energy and nature are a key focus of the campus, with skylights and platforms allowing for natural light and ventilation to filter into the spaces and for visitors to constantly engage with the outdoors. Pathways wind across the landscape, allowing for people to take a leisurely stroll or relax on a seat or on the lawn to enjoy the natural space.
"We dream not only of creating an urban space about sports and ecology, but also turning it into a unique land art park for the world, establishing a relationship between the city's heritage and history of Shanshui Culture," said Yansong.
The campus is set in Quzhou, a forest city with a rich history and culture that dates back thousands of years.
The surrounding forest secludes the campus from the city, creating a natural haven for visitors. The design takes advantage of this landscape to create an ethereal, extraterrestrial world, with mountains and a lake that takes the form of a sunken garden.
The campus provides a unique look at conventional urban constructions and creates a space tha presents a future where a harmonious relationship between humans and nature is the primary focus.
"The relationship between man and nature is not only about ecology and sustainability, but it is also about spirit and mood," said Yansong points out. "This is the culture and philosophy that has long existed in the history of this land and needs to be applied in the development of our future cities."
SEARCH
SUBSCRIBE TO ENEWS
MORE NEWS
THE VISION FOR VICTORIA PARK
IT'S ART
LENDLEASE SIGNS ON
KANSAS CITY AIRPORT REVEALED
TRAVELLING IN GREEN STYLE
A NEW WAVE FOR PLASTIC RECYCLING