SOMETHING NEW
31 Oct 2019
KLS is excited to announce it is now supplying a new and innovative, low maintenance range of stone- and timber-look porcelain tiles. Digitally printed with an extensive range of patterns available, there are plenty of reasons to love this new range.
Kellyville Landscape Supplies (KLS) specialises in the supply of natural sandstone products and has been operating for over 30 years. KLS is now branching out with an exciting new range of products: porcelain tiles that are digitally printed with the look of either natural stone or timber. Digitally printed tiles ensure the effect of stunning natural stone or timber is achieved without the ongoing maintenance costs.
There are several patterns available for printing within each range to ensure the authenticity of the pattern. The tiles are 20mm thickness, allowing for them to be used in Australia's harsh external conditions.
Porcelain tiles are made from ultra-fine porcelain clays that are fired at extremely high temperatures. The resulting tiles are much harder, denser and less porous than natural stone. This makes them more stain- and water-resistant, and more durable in the long-term.
The range of tile looks that are available include:
Sandstone, granite, beachwood and reefstone, available in 600 x 600 x 20 mm
Travertine-look tile, available in 600 x 400 x 20 mm
The travertine, sandstone, beachwood and reefstone ranges have pool coping available to match in 1200 x 300 x 20 mm with a bullnose edge
There is a range of colours available within each collection.
While KLS is and will always be a fan of natural stone, there is no question that stone- and timber-look porcelain tiles provide an innovative, low maintenance and practical surfacing option that provides more variety of choice.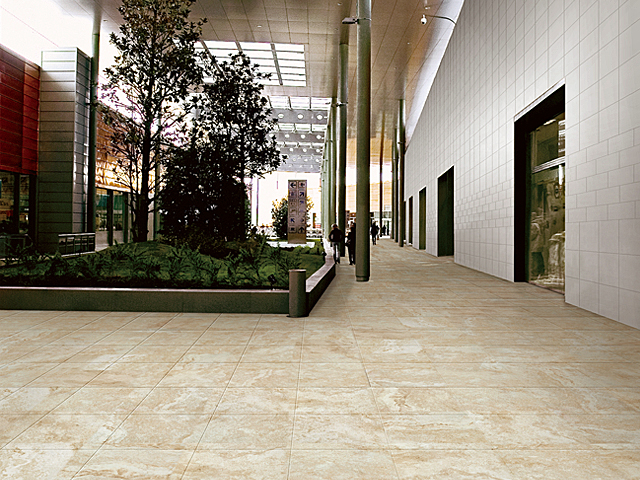 Check out this exciting new range onsite at KLS in Box Hill.
SEARCH
SUBSCRIBE TO ENEWS
MORE NEWS
HOW TO INCORPORATE TILES, PAVING AND STEPS IN YOUR NEXT SANDSTONE PROJECT
TRANSFORM YOUR SPACE WITH KLS SANDSTONE
CLAD IN STYLE
GOSFORD QUARRIES | RETAINING WALL BLOCKS AND SANDSTONE GARDEN EDGING SOLUTIONS
FROM MASTERPLAN TO MASTERPIECE
AUSTRALIAN SANDSTONE | THE TIMELESS CHOICE