SLIMLINE LANDSCAPE DRAINAGE SOLUTIONS
12 Aug 2021
Stormtech's Linear Drain System boasts innovation in the way it removes water through multiple outlets.
The innovation of Stormtech's Slimline Linear Drain system lies in its ability to remove water throughout the drainage channel in a distributed form, eliminating the need for large outlets at one – or both ends – of the trench.
As a result, the system removes water along the channel through multiple outlets. The number of outlets depends on the length of the installation. This ultimately improves the efficiency of the drain itself, removing far larger quantities of water than would otherwise be possible. Having the water removed at multiple points along the trench also dramatically reduces blockages.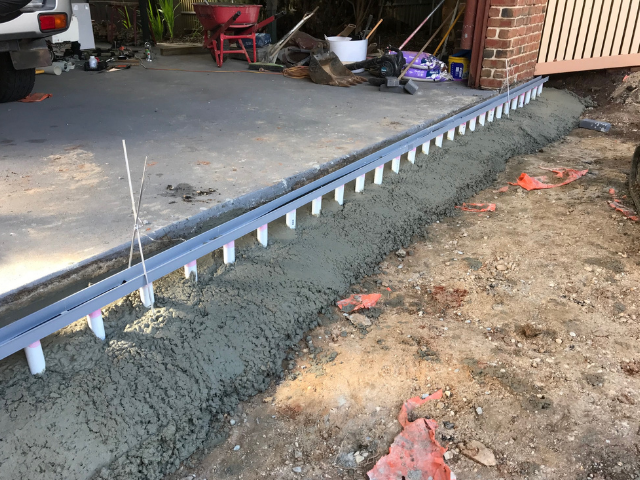 Being smaller and more efficient than standard drains, more design flexibility is also provided. The Special Assembly Slimline Drain can be integrated in almost any design concept and can be used in a variety of situations from commercial public works, to backyard landscaping (driveways, paved applications and pool designs).
It is also easily incorporated into doorframes and thresholds to allow an equal threshold, which allows easy access and a more fluid design. Furthermore, the drain can be connected directly to all stormwater or sewerage systems, no matter what building code is required.
The Special Assembly system is a 100mm drainpipe with a 65G UPVC channel. A 65mm wide UPVC channel is connected via downpipes at 200mm intervals to sockets in a 100mm drain below. This allows the channel to be installed level, while the drainpipe is given sufficient fall to be self-cleaning. The Special Assembly is then completed with a stainless-steel grate from the AR, TR or PS series.
It is important to note that depending on the installation environment, such as for a pool installation or an installation that is close to a surf beach, you may need to have your stainless-steel grates electropolished.
This unique drainage system was recognised for its innovation by a DesignMark at the Australian International Design Awards.
Stormtech drains are fully compliant with a number of building codes, in particular Plumbing Code AS3500. With 30+ years' experience in architectural drainage, Stormtech have all products certified by Greentag and Watermark. The Australian, family-owned business works closely with regulators, legislators, end users, trades and distributors to develop problem-solving products. Their experienced team welcomes any questions about product selection and compliance.
SEARCH
SUBSCRIBE TO ENEWS
MORE NEWS
CIVIL CONSTRUCTION PRODUCTS FOR EVERY SPACE
DISCREET DRAINAGE FROM ACO
DRAINING LARGE FLAT PAVEMENTS
THE STORMTECH LINEAR DRAIN GETS A VERY SPECIAL UPGRADE
LANDSCAPE LINEAR DRAINAGE
DIY SOFTWARE: SIZE UP YOUR OWN DRAIN