SETTING NEW STANDARDS
20 Sep 2011
A beautifully landscaped estate raises the bar for premium residential developments
Setting new standards
A beautifully landscaped estate raises the bar for premium residential developments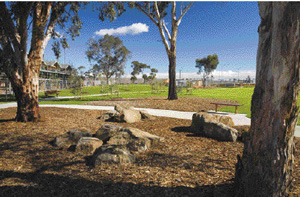 Callaway Park is a premium residential land development setting new standards for living in the outer Melbourne suburb of Sunshine. Located on the site of the former Sunshine Golf Club, the new master-planned community offers more than five hectares of open space, wetlands and diverse housing.
Due to meticulous planning and the expertise of landscape architect Penney Faul from Tract Architects P/L and landscape contractors J.A. Dodd Ltd, many of the established trees and existing bushland areas have been retained. These now complement the new wetlands and landscaped areas, which include reserves and parks.
The development also contains shared trails and paths that link the open spaces, enabling residents of all ages to walk or cycle around the estate with ease.
In the experienced hands of J.A. Dodd, the impressive landscaping project went off without a hitch and is now proving to be one of Calloway Parks' biggest drawcards. Because of the extensive nature of the project, and the high calibre of the design and construction, there are many noteworthy features. The communal barbecue area is one, the feature concrete paving (consisting of 10–14mm Dromana aggregate with a sandblasted finish) another.
The paving is complemented with Tahini-coloured, sandblasted concrete walls teamed with 10-14mm Torquay pebbles and stonework featuring Wistow stone. The latter was chosen to create a "dry stone" look that would complement the bushland surrounds.
Sustainability was a priority, so J.A. Dodd strove to use recycled materials as much as possible. This included site topsoil, sleepers and rock. Great pains were also taken to retain existing trees wherever possible.
The irrigation system, which utilises rainwater run-off from an existing dam, is another sustainable feature of the project. Water from the dam is pumped up to storage tanks and the gardens are supplied from this source rather than relying on the mains water supply.
From trees to groundcovers, the emphasis throughout the estate is on hardy plants, both natives and exotics. These range from bottle brush trees to flowering pear trees and from dwarf flax lily and African daisy to creeping boobialla and hop goodenia. The result is a beautifully landscaped network of outdoor living areas and open spaces that help to set Callaway Park apart from the rest.
SEARCH
SUBSCRIBE TO ENEWS
MORE NEWS
SOUTH AUSTRALIA'S TOP LANDSCAPES CELEBRATED
STEEL RESOLVE
ANCIENT CHINESE CITY RECEIVES A NEW TOILET BLOCK
2018 WA LANDSCAPE ARCHITECTURE AWARD WINNERS
AN AWARD-WINNING UPGRADE
PLA 2019 CONFERENCE PROGRAM RELEASED