SENSE OF PLACE
20 Sep 2011
A testament to quality design and construction, these courtyards are picture perfect
Sense of place
A testament to quality design and construction, these courtyards are picture perfect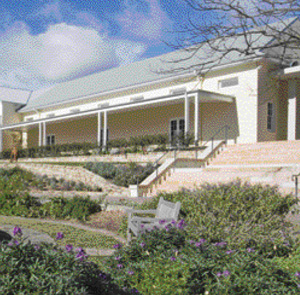 Having taken the decision to demolish the old library and build a new one in its place, Frensham School called on landscape architect Nicholas Bray and Craig's Coastal Landscaping Services (CCL) to renovate the two adjacent courtyards.
In the southern courtyard, students now have two seating options: they can relax on the level lawn or gather on the low brick retaining walls. Avenue trees provide shade and structure while garden beds have been used to reduce the scale of the new retaining walls, line the pathways and nestle the building into its surrounds. To control the flow of students between buildings, there is a series of paved ramped pathways and steps.
The northern courtyard proudly proclaims central axis pathways, open lawns, an area of flagged sandstone, recycled sandstone seats and a circular swathe of paving around an existing pond. Dry-stone walls, carefully positioned to protect an 80-year-old oak, add character and accommodate the change in levels.
The planting is a mix of native and exotic species. In the southern courtyard there are hedges of Teucrium fruticans and Elaeagnus macrophylla, which complement the strong structural lines of the box hedging along the shaded bed adjoining the library. Within the shaded beds, plants were chosen to provide seasonal variety. For winter flowering there is Helleborus and Sarcococca ruscifolia; for a spring flourish, Anemone japonica and variegated Iris.
In the northern courtyard plants were selected to complement the existing perennial/cottage garden around the central pond and include Salvia sp, Lavandula dentata, Rosmarinus 'Blue Lagoon', Iris sp, Artemisia 'Powis Castle', Hydrangea quercifolia and Stachys byzantine.
Both courtyards boast a mix of deciduous shade trees (maples, magnolias, oaks and flowering pears) to maximise summer shade and winter sun.
With such a large scope of works and the school calendar to contend with, CCL had to concentrate all their resources to ensure speedy delivery and completion. In completing the southern courtyard, which took from early November 2008 to December 10, 2008, there was an additional challenge: the library was still being built, so scheduling the landscaping works required great precision.
The northern courtyard was built between December 15, 2008, and January 23, 2009, and involved considerable demolition, bulk earthworks, service relocation and stone stockpiling. The head of CCL, Shane Duffy, was even working the excavator on New Year's Eve and New Year's Day to ensure everything would be ready to begin the formwork and other structural elements on January 3, 2009, when the rest of his team returned to work.
An exciting project due to the complexity of the spaces, one of the most interesting aspects was the use of historic stone. When the old library was demolished, a series of very large rectangular sandstone blocks and other rock was uncovered. These were used in path edging, as steps and stepping stones and for seating. They give the spaces an historic content and interweave the newly landscaped areas into the fabric of the existing school grounds.
SEARCH
SUBSCRIBE TO ENEWS
MORE NEWS
PLA 2019 CONFERENCE PROGRAM RELEASED
AN AWARD-WINNING UPGRADE
STEEL RESOLVE
2018 WA LANDSCAPE ARCHITECTURE AWARD WINNERS
ANCIENT CHINESE CITY RECEIVES A NEW TOILET BLOCK
SOUTH AUSTRALIA'S TOP LANDSCAPES CELEBRATED