SAFE ALL DAY WITH WET POUR
28 Jun 2018
Looking for a safe, cushioned and slip-resistant surfacing for your next landscaping project? Rubberworx wet pour rubber surfaces offer the perfect solution; designed to significantly reduce the potential for injury, they can be used in a wide variety of settings, and offer superior performance and a longer lasting surface.
Rubberworx specialise in rubber safety surfacing, supplying and installing premium quality surfaces that are fully compliant with Australian Safety Standards AS 4422:2016. The company offers a range of recycled and synthetic products that are suitable for an extensive array of commercial applications.
The Rubberworx Wet Pour system is mixed and poured onsite, which enables the material to be formed and constructed into a wide range of shapes and thicknesses. The innovative material is a porous, two-component surface covering that allows for freeform designs. Conforming to Australian Safety Standards, Rubberworx Wet Pour offers a variety of unique architectural and aesthetic features that are the perfect accent to playground, recreation centres and children's spaces.
The unique surface layer is locked with an elastic polyurethane binder, specifically formulated for installation over aggregates such as asphalt, concrete and FCR. The cushioning underlayer is available in a variety of thicknesses to buffer falls and is covered by a durable RPCR or EPDM wearing layer.
Durable, impact absorbent and slip-resistant, wet pour is unique with its versatile and flexible design options and extensive colour range on offer. The material offers continuous surfacing and requires very minimal maintenance, making it an easy short- and long-term surfacing solution.
The long list of benefits allows for Rubberworx Wet Pour system to be the preferred surfacing material for a range of applications, including playgrounds, equine arenas, sporting venues and public space precincts.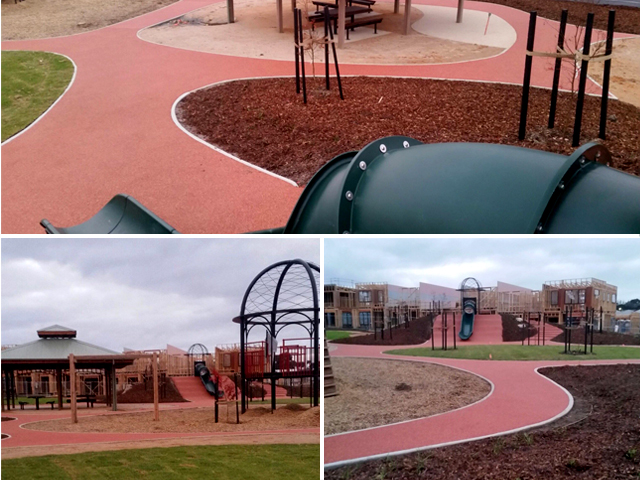 Rubberworx are committed to sourcing only the highest quality of premium materials, both locally and internationally. The installation and sales staff are fully certified with extensive industry experience and offer comprehensive product knowledge for all applications, with a site supervisor allocated to each project to ensure a direct point of contact throughout the installation process. Rubberworx provide a complete quotation service including site inspections, colour charts and samples.
To discover more about the Rubberworx Wet Pour system, contact the company or visit their website via the links below.
SEARCH
SUBSCRIBE TO ENEWS
MORE NEWS
A BIG UNDERTAKING
WET POUR A SAFE SURFACING SOLUTION
ECO-SOFT SURFACING = GOOD FOR THE ENVIRONMENT
OMNIGRIP CST TAKES OFF
THE ART OF BASKETBALL
ROSEHILL TPV SUPPORTS CANCER AWARENESS