RUSTIK STYLE WITH A SUSTAINABLE EDGE
22 Nov 2018
The new Rustik collection from Playscape Creations is bringing a unique style and sustainable edge to playgrounds with its blend of natural and manufactured materials and creative designs.
With three collections in the new Rustik range, clients have more of a choice, from standard "off-the-shelf" selections through to fully customised play systems that integrate Australian hardwood timbers with climbing nets and steel architectural features.
Partnering with the Wood Bank, Playscape Creations' design and engineering team has developed distinctive core products, with the opportunity to personalise and individualise to suit design narratives and site theming.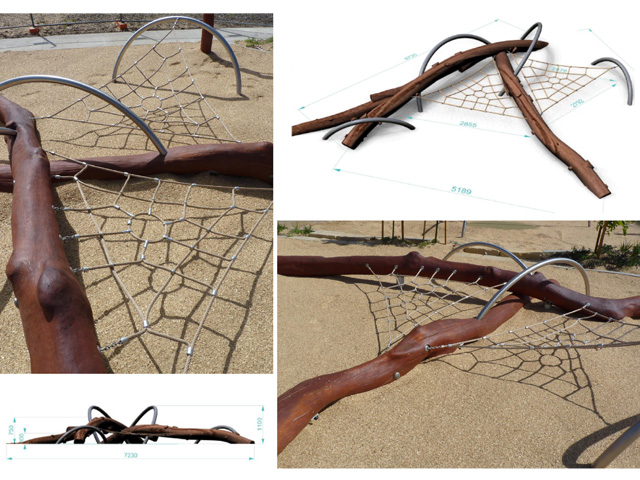 The Wood Bank comprises a team of passionate people whose goal it is to improve everyone's life through environmentally sound products sourced from timbers that would otherwise not have been reused. Creating significant value is of paramount importance to the Wood Bank, in order to deliver maximum function and innovative solutions to key efficiency and environmental issues based on advanced knowledge, application and strategic thinking.
Second generation timber regrowth is not allowed to be harvested by loggers and timber mills, so in the vast clearing of land for development in South East QLD, these high-quality timbers would otherwise go to waste. What better way to use these timbers than to reintroduce them into project sites, blending play and sculptural design to complement the natural setting.
Unlike timbers more commonly seen in playgrounds, these second generation timbers are cleared of all sapwood before use, so there is no outer layer that might crack and deteriorate down the line.
Two recently completed projects utilising the Rustik range highlight the versatility of these play structures, as well as demonstrating Playscape Creations' inhouse capacity to work through a project from initial design concept to final project completion.
ELLIOT SPRINGS
Residents of Elliot Springs Estate in Townsville are the proud recipients of a new state-of-the-art, inclusive Livvi's Place playground featuring a Signature Tower – the first of its kind from the Rustik range.
"We've created a space where people of all ages, backgrounds and abilities will feel comfortable and can thrive in their environment …. where all children can come together to have fun and feel included," enthuses Simon Walker, Regional Development Manager for Lendlease.
On entering the Elliot Springs estate, residents are greeted by a "beacon" art structure, which is the key influence and landmark of the development. The art piece informed the aesthetic of the custom-designed and built 11m-high Rustik tower that is the centrepiece of the all-inclusive playground.
Australian hardwood posts stretching 10m high adorn the outside of the tower, with vibrant cladding matching the "beacon" adding to its striking appearance. But the tower's true worth lies in its play value! An internal spiral net and belt climbing concept adds exciting challenges for kids to reach the slides set at 2m and 6m high.
Stainless-steel mesh encloses the tower for added safety, while still providing clear sightlines from both inside and out.
Playscape Creations worked hand in hand with Lat27, Lendlease and the Touched by Olivia Foundation on the creation of this truly amazing bespoke playground.

HARVEST RISE
To see more of the Rustik range in action, take a look at the new Harvest Rise development in Greenbank, Brisbane. This masterplanned estate also features pieces from the new Rustik collection. Both architectural and sculptural, these structures blend sophisticated stainless steel arch work together with natural timber elements to create one-of-a-kind non-prescribed play opportunities for all ages.
Sculptural, industrial, natural – meet the Rustik range from Playscape Creations!
SEARCH
SUBSCRIBE TO ENEWS
MORE NEWS
PARK WARRIOR IS TAKING OFF ACROSS AUSTRALIA!
WHAT IS A PUMPTRACK?
MARCUS CONSTRUCTIONS INTRODUCES A NEW LEVEL OF PLAY
AUSTRALIAN BESPOKE PLAY
YEA RAILWAY PLAYSPACE
AN AMAZING TRANSFORMATION